Alexandra Meeks: Making news at CNN as an up-and-coming producer's assistant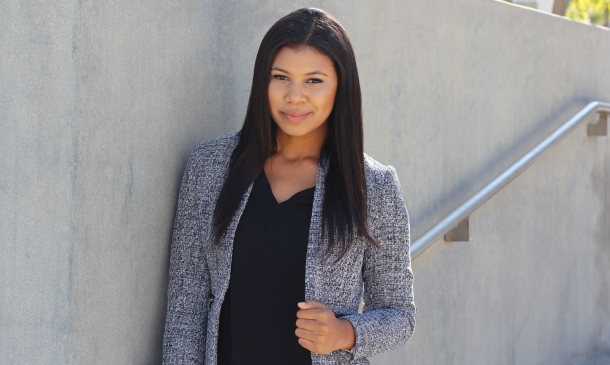 Recent political science and journalism graduate Alexandra Meeks is making news. The San Diego native was recently hired by CNN International's Los Angeles bureau, as a producer's assistant following an inspired internship.
"I basically got the job at CNN because of LMU," Alexandra said.
After being awarded the Jovana Lara Scholarship, for which journalism professor Evelyn McDonnell nominated her, Alexandra says all sorts of doors began opening — including invaluable internships at both ABC and CNN, where she was able to shadow studio anchors and learn the ropes from producers.
Alexandra's day-to-day duties at CNN include collaborating with producers and editors, conceptualizing news segments and basically deciding what makes it to the airwaves.
"I feel a responsibility to really share what matters," Alexandra said, "meaningful stories, which is super imperative for a network like CNN because so many people trust in us."
Additionally, Alexandra is a press secretary trainee for the U.S. House of Representatives, which merges her interests in political science and journalism.
"D.C. is ultimately where I hope to end up," Alexandra said, "I would like to work as a White House press secretary."
Alexandra says she was attracted to LMU for its proximity to Los Angeles and its rapid-fire news market — but is quick to add that she discovered that one of the greatest things about LMU is the people.
"LMU students are a different breed of Angelinos," Alexandra said. "We all come from these different backgrounds, but somehow all come together, finding similarities through clubs, campus events and classes."
And although she had a busy course load and internship responsibilities, Alexandra still found time to get involved on campus. She is a member of the Delta Sigma Theta sorority, was social chair for the Black Student Union, and even found time to study abroad in Paris for a semester.
"Paris was the most life changing experience," Alexandria said. "It really encouraged me to break out of my shell and explore what the world has to offer ... and it is where I first developed my passion for journalism."
Alexandra's biggest piece of advice to incoming Lions is to be "proactive" about one's career path.
Beginning in her freshman year, Alexandra visited LMU's Office of Career and Professional Development often, where she spruced up her resume and cover letter, took interview prep workshops and worked closely with a career coach.
"Working with a career coach made me feel more confident," Alexandra said, "and instilled the importance of taking on internships as early as possible."
Looking to the future, Alexandra hopes to help produce news stories that tackle controversial issues, such as equal rights, immigration and police brutality — stories that get people talking and ultimately acting.
Heading into her next chapter, Alexandra says she is grateful for her time at LMU, especially for what it has taught her.
"The greatest thing I learned is that it is okay to be a work in progress," Alexandra said. "Embrace the process of being a work in progress."