David Tassone: ASLMU President joins the Big Four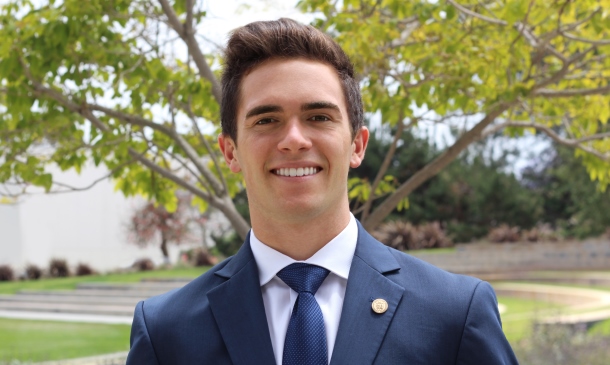 Recent finance and economics graduate David Tassone ends his illustrious LMU career only to start a promising new one as an Operations Risk Advisory Associate with Big Four professional services firm KPMG.

A native of Redondo Beach, Calif., David interned with KPMG the summer following his junior year and leveraged that positive experience with a connection back home (a KPMG recruiter), scoring the interview that led to his new position.

A fifth generation Lion, David is a prime of example of someone who made the most of their LMU experience and is now reaping the rewards, from a successful term as ASLMU President to a collaborative group of lifelong friends.

"LMU's best asset is its people," David said, "and I wouldn't be who I am today without those I've surrounded myself with each and every day."

As ASLMU President, David implemented several successful initiatives, including the ASLMU Intercultural Advisory Council, We the Lions campaign, the LMU Leadership Council, and was integral in passing a Senate resolution for LMU to join the IIE Syria Consortium for Higher Education in Crisis, placing LMU on the list to welcome Syrian refugees to campus as early as next year.

Additionally, David spearheaded a collaboration among the 28 other Jesuit university student body presidents across the nation in order to take a stance against racial inequality in the higher education system.

"LMU allowed me to think critically about issues the world faces, specifically social justice issues," David said. "LMU doesn't just encourage you to discuss the issues, but encourages one to experience them."

Prior to his presidency, David served as an ASLMU Senator and was Director of Marketing and Distribution.

He adds that one of LMU's greatest attributes is its commitment to the global experience.

"I'm walking away from LMU having visited 17 different countries," David said, "including a semester abroad in Florence. There are just so many opportunities to learn on a global scale."

David says he was originally drawn to LMU by its people and nationally-ranked business program.

"Business requires a lot of connections, and I wanted to be at a school with connections rooted in the city I hope to stay in," David said.

As for what advice David has for incoming Lions...

"Be vulnerable, allow yourself to be open to new experiences," David said, "and be comfortable being uncomfortable. Be a man or woman with and for others."