Philosophy for Success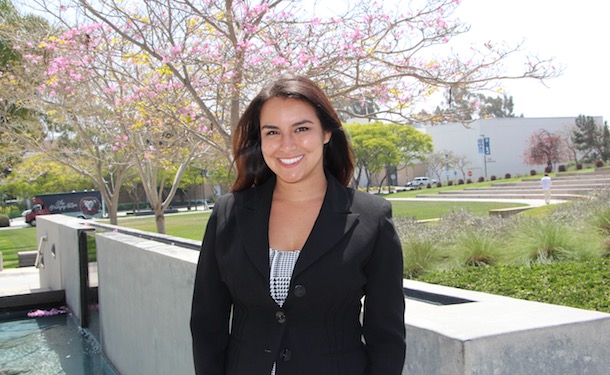 Class of 2018 Philosophy graduate Anna Pasano is eager to make her mark on the world by channeling her LMU spirit and skills acquired on the bluff into a law degree and eventually a career in Conflict Resolution.

"Becoming a Lion is probably the best decision I've made for myself thus far," the Northridge, California native said. "From the sense of community to the small class sizes, I would recommend LMU to anyone!"

Drawn to the bluff for its Jesuit values and mission, Anna found her coursework in LMU's Bellarmine College of Liberal Arts rewarding, strengthening both her ability to think critically and unravel logic -- lessons that served her well upon the launch of her law career at the Pepperdine University School of Law this past fall.
Anna says a particular academic highlight for her was a "Literature and the Law" class she took, taught by a Loyola Law professor.

"It was a really cool interdisciplinary experience that brought attorneys into the classroom to run mock restorative justice circles," Anna said, adding that the experience afforded students the opportunity to network with attorneys who work on prominent cases involving death row social justice cases, among others.

Pairing her major with a minor in Classics and Archeology, Anna says she felt her time on the bluff was enhanced by LMU's commitment to cultivating a globally conscious environment.

"Probably the biggest thing LMU taught me is how to become a global citizen," Anna said. "There's a huge emphasis in classes on causes and effects on a global scale. It really helped broaden my awareness and interest in affairs going on around the world."
Anna also found herself among 36 percent of Lions who choose to study abroad, journeying to Florence, Italy
for a semester to study renaissance arts, culture and philosophy.

"The cultural immersion I experienced abroad helped me to understand other people's perspectives," Anna said. "But sometimes I was excited to find a common thread of communication that was universal."

In addition to her studies, Anna was an active presence on campus, becoming a member of Alpha Sigma Nu honors society, Pi Beta Phi sorority, the ASLMU Elections Committee, and as an Academic Chair and founding member of the legal fraternity Phi Alpha Delta. Additionally, she worked as a Lead Writing Tutor at the Academic Resource Center and was a Summer Undergraduate Research Fellow.

Anna's post-grad future is as bright as the view from the bluff. This past fall, she launched her law career at the Pepperdine University School of Law.

As for what advice Anna has for future Lions?

"I think LMU is good at helping students foster their passions, even ones they didn't know they had before," she said. "So make sure to try everything that interests you, even if it seems scary at first."