Passion with A Purpose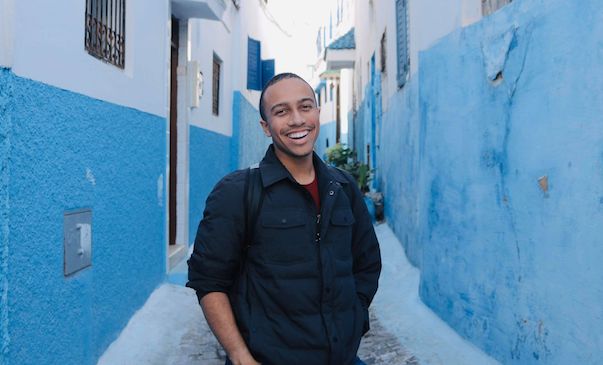 Jelani Bramble-Manning is an LMU Lion through and through, and at the heart of it all is the university mission. Earning a baccalaureate degree in biology from the LMU Frank R. Seaver College of Science and Engineering in 2018, Jelani is currently pursuing a Master's degree in Urban Education via LMU's PLACE Corps, while working as a sophomore biology teacher at Verbum Dei High School in Watts, California.
The California native followed up his LMU undergraduate experience with a year of post-graduate service in Quito, Ecuador, where he taught English to grades K-12 at the Working Boys Center.
"I love working with young people and helping them realize their potential," Jelani, the recipient of an LMU Arete Award for his commitment to service, said. "I think it is important that students of color are able to see teachers of color, people that look like them, in the classroom. I hope by playing a small role in my students lives, they will have a huge impact on our future."
Jelani was first taken with the Ecuadorian people and culture on an Ignacio Companions (IC) trip to the country through LMU Campus Ministry. IC trips provide students with the opportunity to expand their worldview and reflect on their Ignatian spirituality while immersed in a cultural context vastly different from their own.
Ranked No. 3 in the nation for "Students Most Engaged in Community Service," according to The Princeton Review (2020), Jelani says he was drawn to LMU for its Jesuit values and focus on social justice issues.

"I attended a Jesuit high school, so LMU's mission statement and values really clicked with me," Jelani said. "I ended up making a very strong group of friends while on the bluff, and I ultimately plan to spend the rest of my life living out the mission."

Jelani put his passion for leadership and service into action through a variety of campus pursuits, including as a Resident Advisor, Vice President of the Resident Housing Association, Campus Ministry, as a First Year retreat leader, an Ignatian Ambassador, a teaching assistant for the Academic Community of Excellence and as a member of Creare service organization, among others.

Additionally, Jelani was frequently involved with LMU's Center for Service and Action, which provides Lions with a slew of opportunities to volunteer their time in the Los Angeles area and abroad. A particular highlight is their popular Alternative Breaks Program, which aims to promote service and cultural exchange on the local, national and international level through hands-on, community based learning.

As for what advice Jelani has for future LMU Lions?

"By the end of your four years at LMU you shouldn't be able to say 'I wish I had…,'" he said. "Take advantage of every opportunity available to you on the bluff, and remember, when the time comes you will be expected to "go from" this great university and use the things that it has taught you to have a positive impact on the world."