Decoding Success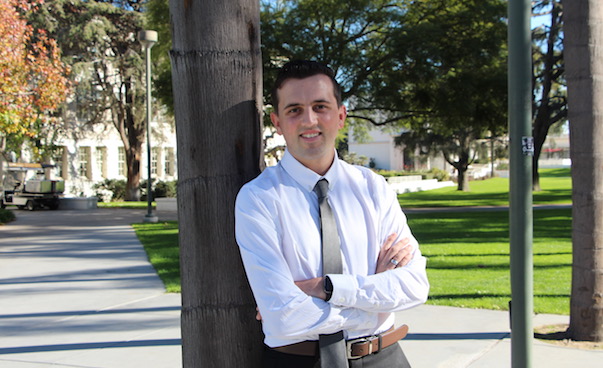 Senior Computer Science major Sam Savini is plugging into a spring internship at Cornerstone OnDemand, a Santa Monica-based software company. A native of San Jose, California, Sam's role will revolve around product management as he helps to organize a team of software designers working on a new mobile app.
"I don't think I'd have the opportunity I do now without the help and guidance of Career and Professional Development," said Sam, who was recruited by Cornerstone at CPD's Career Expo last fall and has hopes for a job offer down the line.
Since its launch in 2015, LMU's office of Career and Professional Development has quickly become the bluff's one-stop shop for the professional resources, guidance and experiences that help students reach successful outcomes suited to their strengths. In fact, 97 percent of LMU's most recent graduating class are either employed, in graduate school or taking part in service opportunities.
Sam's interest in product management was sparked when he ventured to San Francisco on one of CPD's Career Treks. The Career Trek program brings students into the workplaces of friends and alumni, allowing them to explore a variety of career paths, industries and network. This semester alone, trips are planned to New York City, Chicago and the Bay Area.
Originally drawn to the bluff for its Jesuit roots and top-ranked College of Science and Engineering, Sam was eager to immerse himself in the world class city of Los Angeles, but quickly discovered that LMU is a microcosm of the world itself.
"LMU has provided me with the ideal environment to pursue my passions and interests," Sam said. "Moreover, my studies have given me a broad understanding of the tech world and the tools to communicate effectively with people in my field and turn a product out."
He says that key to his development as a scholar and techie has been the incredible working relationships he has been able to form with his computer science professors.
"They've been more than just professors," Sam said. "They've become my friends and resources for guidance."
Synergy between professors and pupils is a hallmark of the LMU experience, touting a student to faculty ratio of 10-to-1 and average class sizes of just 19.
A particular highlight of Sam's LMU experience was his participation in last year's Hyperloop Project as part of the SpaceX Hyperloop Pod Competition. He joined nearly 70 other undergraduate students from the business, science and engineering tracks to design a self-propelled transport pod that could travel in an ultra-low-pressure Hyperloop tube.
Sponsored by the nearby Space-X, the competition aims to encourage innovation in transportation, but Sam felt it provided opportunities for leadership and collaboration amongst LMU students more than anything.
"We had to come up with a cart that could travel at 300 miles per hour and conditions for it to stop, accelerate..." Sam said, who was on the telemetry team. "Our prototype made the top 30, beating MIT."
Away from the computer, Sam is also active on the campus circuit, working as a Tour Guide for Undergraduate Admission, is a member of the Association for Computing Machines and he studied abroad in Florence, Italy, among other pursuits.
As for what advice he has for future Lions?
"Utilize the tools and resources available to you on campus, like CPD," Sam said. "Just jump in and try as many things as you can."