Row with Success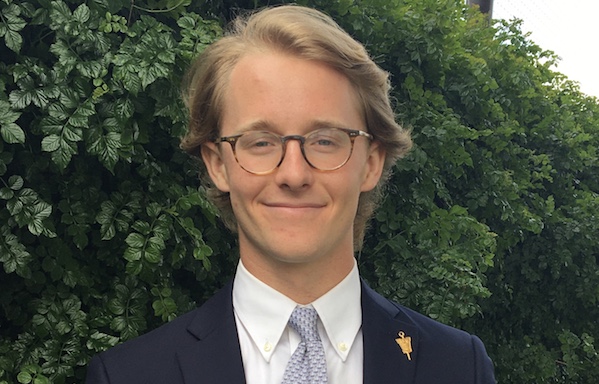 Both oars in post-grad waters, class of 2020's Samuel Johnston will glide into a year of service with the Jesuit Volunteer Corps beginning in August. The recipient of LMU's 2020 Student Athlete of the Year Award for Men's Rowing, Samuel is set to serve as an instructional aide at Cristo Rey San Diego High School, working to prepare students of limited economic means, and many from marginalized communities, for academic success and beyond.
"This is about taking my first step towards a lifelong commitment to the LMU mission," Samuel, who hails from Cross River, New York, said. "To quote one of my professors, 'We can never know the experience of another, but we can always attempt to understand it, and in doing so, strive to support and defend their identity and existence in the world."'
Samuel, a self-described history buff, earned a baccalaureate degree in the subject through the LMU Bellarmine College of Liberal Arts, and says that his academic experience on the bluff instilled a real sense of discipline and focus into his life, as well as a passion for research.
"From an academic and personal perspective," he said, "my First Year Seminar class, 'Multiracial Voices,' helped me develop a love for the act of research and showed me how to integrate the ideas of social justice into my learning. Ultimately, I came away from the class with the ability to see and feel the experiences of others more fully."
Another key takeaway, he added, was an Undergraduate Research Assistantship under the wing of his professor, Dr. Curtiss Rooks. The pair lent their talents and research savvy to a global study sponsored by the Japanese American National Museum that is examining the Japanese diaspora. For his part, Samuel explored the Nikkei and Japanese migration patterns from a historical perspective.
Recognized as an institution committed to high-level research, according to the Carnegie Commission, LMU's commitment to undergraduate research is reflected in the wealth of opportunities afforded students via SURP, and the platforms to showcase their work, such as LMU Undergraduate Research Symposium.
Outside of his academic and athletic pursuits, Samuel is a TOMODACHI Inouye Scholar, venturing to Japan to partake in a ten-day, cross-cultural leadership program. Additionally, he is the recipient of a Presidential Citation, among other laurels.
As for what LMU memories Samuel thinks will linger with him for years to come…?
"I'll always look back fondly on my memories of rowing team, and of all my teammates," he said. "Of watching the sun rise with them every morning at 5 a.m. in Marina del Rey before taking to the water."