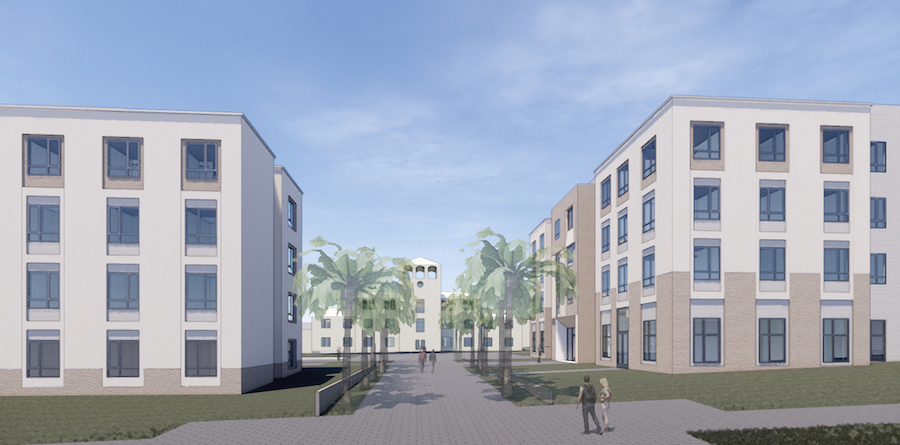 At LMU, we are constantly striving to improve the residential experience for Lions. Living on campus provides valuable academic, leadership, and personal growth opportunities that enrich the quality of the undergraduate experience. This year, to add additional capacity in student housing, we are breaking ground on an ambitious new residence hall project that will expand housing and amenity opportunities to our students. We are excited about the many new features that will be available to first-year and continuing students come fall 2020, but we understand that this raises questions about how construction will impact the 2019-2020 LMU experience. Below please find answers to a few of the questions we've heard most.
Construction will be ongoing from May 2019 through August 2020. The new residence halls are expected to be ready for move-in weekend in August 2020.

As with any major campus construction project, there will be some inconveniences to faculty, staff and students who regularly access the east side of campus. Construction will be ongoing Monday – Friday throughout the year. While sound barriers will be in place to lessen the noise impact to nearby classrooms and residence halls, you should expect to experience some noise, along with various road closures or detours in the area as our construction team works diligently to meet our accelerated deadline of August 2020.

LMU guarantees housing for all first-year students, and we love that 94% of incoming students take us up on that offer! Because we do our best to accommodate everyone who requests housing, lounges and study rooms will be converted and used for some first-year housing assignments.

No. LMU is working hard to ensure that all first-year and continuing students have the best experience possible during this construction. To ensure room availability for all first-year students who wish to live on campus, Housing will change upperclassmen accommodations from four students to five students in our two-bedroom apartments. First-year accommodations will include traditional first-year residence halls as well as suite-style housing.

No. While the new residence halls will include additional housing options for sophomores, juniors and seniors, it does not currently expand our ability to guarantee housing for 3rd and 4th year students.

We cannot guarantee every student will get his or her top choice; however, we do suggest you sign up early! We process first-year housing requests in the order we receive them (this process is different for continuing sophomores, juniors and seniors). You must submit your commitment deposit to the university in order to be eligible to apply for housing.

Housing applications open the first week of April. You will be notified through Future Lions when the housing application is available to you.
Still have questions? Contact our counselors by email at admission@lmu.edu or by phone at 310.338.2750.