Quin Thames: Tech-savvy Grad Joins Google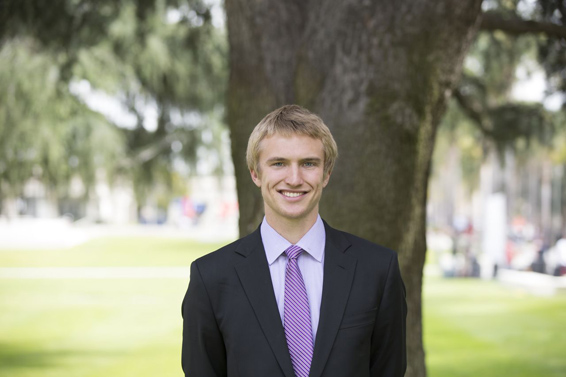 It's been a mere month since Computer Science & Electrical Engineering major Quin Thames received his LMU diploma and he's already scored full-time employment with Google as a Software Engineer in their Los Angeles Headquarters, located in Venice Beach.
Quin says he owes his early success to the specialized training and resources he was afforded by LMU's illustrious Science & Engineering program.
"I gained pretty much all of my computer science knowledge while at LMU," Quin said.
With his new position not starting till September, Quin plans to continue interning at a search engine marketing company and developing his pet project: a new app.
"Basically the goal of any computer science major is to create an app that takes off," Quin said.
Quin's app, which he co-created with an LMU classmate, is called "OnChatter.com," a location-based chat service/chat room that is immediately created by your location.
This sort of creative collaboration is characteristic of the LMU experience.
Additionally, Quin and another LMU student – his roommate – started their own side business, a website building company that's in the process of being granted its LLC license.
During his college search, Quin, a native of St. Louis, says he looked into several California schools, but LMU struck him as having the right "feel, atmosphere," and he appreciated the school's Jesuit values. Plus, it didn't hurt that his sister had attended LMU and loved all the university had to offer.
"I just really fell in love with the community, the small class sizes, close interactions with professors," Quin said.
During his freshman year, Quin embraced this idea of community by becoming very involved: walking onto the rowing team, joining the Engineering Honors Society, the Jesuit Honors Society, even taking part in the Freshman talent show, which he won with his signature "El Diablo" routine.
Though he cites his favorite college experience as participating in LMU's Summer Study Abroad program in Bonn, Germany, where he traveled between six different countries, including Barcelona, France and Austria.
"LMU has given me so many opportunities," Quin said, "such as being able to walk onto the rowing team, which I became captain of. It's really all about what you make of it. The opportunities are there."
Quin is looking forward to joining the team at Google, saying it's a very exciting company to work for, and he plans to keep pursuing his own entrepreneurial dreams.
As for any advice he might have for incoming freshmen…
"Try out everything you can," Quin said. "What I thought about college and careers going into my freshman year is completely different from how I view it now."