Connect with Us
Let us get to know each other better. Join one or all of our weekly virtual sessions so you can meet our admission counselors and current students as they share the LMU experience with you. Come for a general overview of LMU or get a deep-dive into topics that are of interest to you, including meeting others from your state/region, learning about each college/school, or demystifying the application process. Simply select a link below to RSVP or email admission@lmu.edu for any questions.
There are additional opportunities to connect if you are an International student or a Transfer student. We welcome your visit.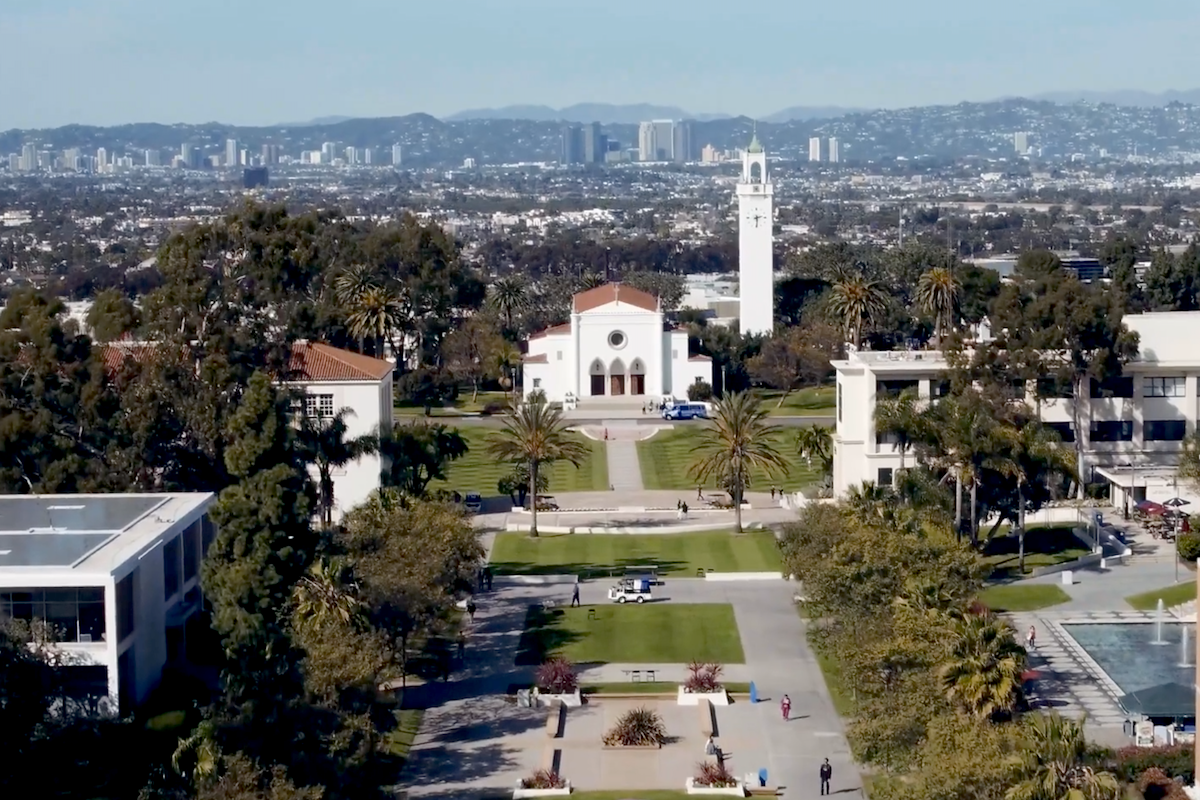 Welcome to Loyola Marymount University
Loyola Marymount University (LMU) is a nationally ranked, Jesuit university devoted to undergraduate and graduate academic excellence and cura personalis, "care for the whole person." LMU strives to develop the whole person in mind, body and spirit. We commit to supporting students to be their authentic self ready to ignite positive change in society.

Student EXPerience
Student EXP helps guide students in finding valuable experiences beyond the classroom. At the core of the Student EXP are the Five Pillars that inspire students to integrate knowledge with action: Practice Ignatian Values, Integrate Mind, Body & Spirit, Commit to Service & Justice, Become a Global Citizen, and Live a Life of Purpose.

Los Angeles
The City of Los Angeles offers unrivaled natural beauty: the sparkling Pacific Ocean, the towering San Gabriel and Santa Monica mountain ranges and the rugged Mojave Desert. Whatever your taste for the outdoors you will find it in stunning Southern California.

Academic Excellence
Curiosity and intellectual exploration are encouraged at LMU. We offer more than 150 undergraduate degrees, certificates, and credentials; along with 4+1 master's degrees and over 90 graduate programs, to prepare each individual for lives of meaning, purpose, and professional success. Our nationally-ranked academic programs range in many areas—including the liberal arts, entrepreneurship, film, finance, theatre, science, engineering, and more.

Passionate and Dedicated Faculty
LMU's small-size classes taught by dedicated, award-winning professors result in personal attention and deep intellectual engagement that are the hallmarks of a Loyola Marymount Jesuit education.

The Pride
The Pride is our community network of over 75,000 LMU Lions worldwide and encourages meaningful connections, mentorships, career coaching, and more.
Take Your Next Academic Journey with LMU
We hope you had a productive time getting to know us and learning what makes Loyola Marymount University (LMU) unique and special to our Lion community. We welcome any additonal questions you may have as you explore the academic path you want to take after high school or community college. We want you to know that your future with us will be one of trust, community, mutual respect, and will be filled with supportive opportunities.