Journalism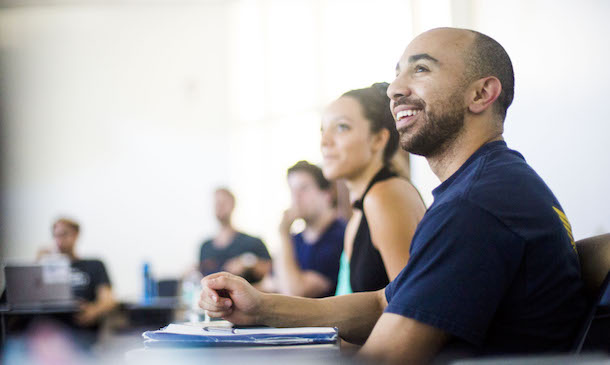 What is Journalism?
Journalism at LMU connects the educational values of the Jesuit and Marymount traditions and the creative and critical practices of the English department to the rapidly changing future of global communication. Our experienced faculty offer students hands-on instruction in the reporting, writing, editing and technological skills across a range of platforms, preparing them to engage critically and purposefully with current events and become professional journalists.
What do Journalism Majors do?
Our mission is telling people's stories. The journalism program is grounded in the hands-on approach of project-based learning, which connects students to communities and lives whose stories highlight issues of social, political, cultural and moral importance. It is also rigorously interdisciplinary, incorporating instruction in film, television, photography and radio production; communication studies; digital media; social media and modalities not yet known or articulated. Ethical discussions suffuse the curriculum, in both the traditional sense of basic professional ethics and the larger frame of the ethics of representation.
Students can join the major their first year or declare it later. During the first two years, students learn the foundations of reporting and writing in journalism, further exploring it as a literary craft through foundational English courses. In their third and fourth years students learn the new technological tools for storytelling, as well as explore the ethical and critical issues that affect journalism. Hands-on experience via an off-campus internship or work with campus media is a major requirement.
About our Faculty
Our faculty are dedicated professors who still actively work as journalists, having publishing numerous books and written for notable newspapers, magazines, websites, television stations and journals. Students work closely on intensive projects with the Fletcher Jones Chair of Literature and Writing, a Nieman Fellow, and an Annenberg Fellow, among others.
Representative courses
Our courses have included:
Language of Journalism
Investigative Reporting
Arts and Culture Journalism
Journalism and Law
Broadcast Journalism
Writing Internship in Media
Reporter in the Story
Sports Journalism
The Feminist Critique
Music Criticism
Literary Journalism
Ethical and Critical Issues in Journalism
Journalism and New Media
For more information, please contact the Director of the Journalism Program, Evelyn McDonnell, at Evelyn.McDonnell@lmu.edu.
Follow us on Twitter: @LMUJour