Toying with Success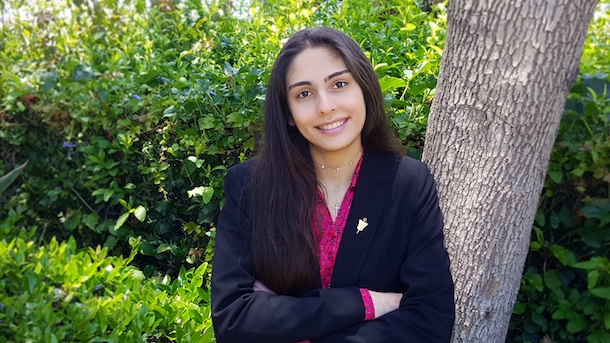 Alena Filhanessian is making a play for professional success with purpose, recently accepting a position as a Global Business Insights Analyst for Mattel, Inc., headquartered in nearby El Segundo. Earning a baccalaureate degree in finance through the LMU College of Business Administration, the class of 2020 graduate is eager to put skills acquired in the LMU classroom to use in the corporate setting, while pursuing a lifelong desire to better the lives of children worldwide.
"LMU has offered me the unique opportunity to nourish my mind, body and soul, as well as to fulfill my goals of academic excellence and leadership," Alena, who was named LMU's 2020 Program Scholar in Finance, said. "I am grateful for the personalized approach that LMU takes to educate the whole person in order to cultivate a better sense of self and pursue my life's passions."
Alena first made her mark at Mattel through her participation in a summer internship she secured via an LMU Career Expo, a professional networking event that is hosted bi-annually by LMU Career and Professional Development.
Growing up in Marina del Rey, just minutes from the bluff, Alena says that LMU's presence was always in the back of her mind, but that it was not until she began volunteering as a teen at the LMU Children's Center that she became acquainted with the university's Jesuit mission and ideals, and how they reflected her own priorities and goals for the future.
"From the moment I stepped foot on campus, I knew it was love at first sight," she said, explaining that in addition to LMU's commitment to service and social justice, she was also drawn to its nationally-ranked business and finance program, which focuses on providing a more individualized learning experience for each of its students thanks to smaller class sizes.
Moreover, she added that key to her academic and professional successes was the guidance and support she received from her LMU professors, enabling her to build a strong foundation of critical thinking skills and ethics.
"Their willingness to share candid insights and experiences on an individual level made all the difference in my development as a student," Alena said.
Outside of the classroom, Alena was also very active on the campus scene, serving as President of the LMU Finance Society, and as Treasurer of the Armenian Students Association. Additionally, she was inducted into Alpha Sigma Nu Honor Society and Beta Gamma Sigma.
As for what advice she has for incoming LMU Lions?
"In order to realize where your true passions lie," Alena said, "be open to exploring LMU's diverse range of activities and student life opportunities – from its professional societies aimed at pre-professional development to giving back to the community through service pursuits."