Auditing Success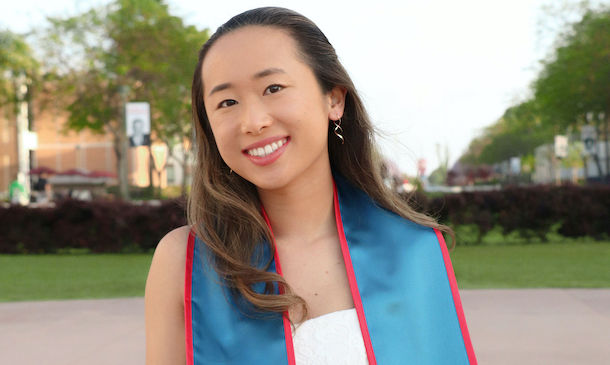 Ashley Thi, Class of 2022, recently began working as an auditor for Ernst & Young in San Diego as a member of their assurance staff. Recognized as LMU's 2022 Program Scholar for both accounting and marketing, Ashley previously was an assurance intern at Ernst & Young last summer.
"LMU represents the best opportunities to get a well-rounded education, in all regards, academically, culturally, and professionally," Ashley, who earned a dual degree in accounting and marketing analytics, said. "CBA does a wonderful job of exposing students to a little bit of everything, and the opportunities to connect with professors are plentiful."
Drawn to LMU for its top-ranked LMU College of Business Administration, Ashley says that a highlight of her time on the bluff was participating in LMU's Accounting Society. The student organization, just one of over 200 student clubs and organizations available to students, aims to be a resource for students of any major to help them connect and network with firms and professionals in the public accounting industry.
"It's through my participation in LMU's Accounting Society that I was able to connect with a lot of accountants with the Big Four firms and ultimately land a job at Ernst & Young before I graduated," Ashley said. "Moreover, it was a great way to meet people and make friends."
Outside the accounting realm, Ashley also participated in undergraduate research with marketing analytics professor Aidin Namin, exploring different marketing influences and their effects.
"I would describe my LMU experience as very fulfilling," Ashley said. "I was able to connect with peers and professors and the greater L.A. community, as well as had the opportunity to get involved and gain confidence in who I am. I could not have done it without my experiences at LMU."
In addition to her participation in LMU's Accounting Society and research pursuits, Ashley was treasurer for LMU's Chinese Cultural Club and a member of Gryphon Circle service organization via the Pam Rector Center for Service and Action.
As for what advice Ashley has for incoming LMU Lions?
"LMU has so much to offer," she said. "Be proactive — look for those opportunities that appeal to you and make connections with your fellow LMU Lions."