Model Achievement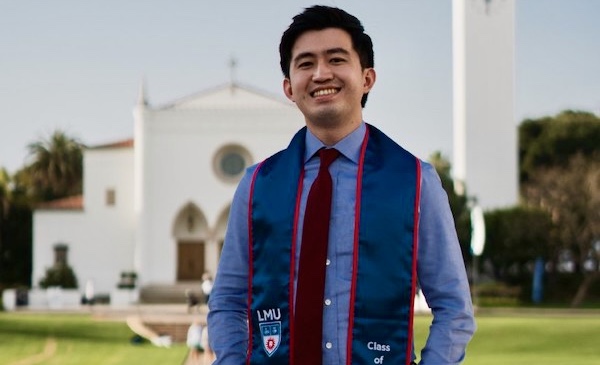 Throughout his LMU career, Kevin Chang's experiences in research and leadership helped him become a lot of things — confident, inspired, involved, the list goes on. Honored as LMU's 2021 Program Scholar for Biochemistry, Kevin plans to pursue a Ph.D. in Chemistry at the University of Southern California this fall, with hopes of becoming the kind of professor he says one would be hard-pressed to find anywhere but on the bluff.
"At LMU, I was able to explore things I wouldn't have been able to otherwise," Kevin, who is originally from Rockland, California, said. "In particular, I appreciated the collaborative and dedicated nature of my professors. The bonds I was able to see develop between teachers and students is why I want to become a professor down the line."
Beginning his freshman year, Kevin participated in faculty-led undergraduate research projects at the top-ranked LMU Frank R. Seaver College of Science and Engineering, including alongside Dr. David Moffett, LMU Professor of Chemistry and Biochemistry. He says his work with Moffett involved researching specific proteins linked to Alzheimer's disease and type 2 diabetes and identifying the few proteins capable of preventing the formation of a toxic amyloid linked to the illnesses.
"Being able to put the concepts I was learning in the classroom into action through research was illuminating," Kevin said. "It helped me better understand how diabetes and other illnesses work, and in turn, how to best go about working to combat them."
In 2020, Kevin's research efforts in the STEM field earned him a Barry Goldwater Scholarship, a prestigious award given to college sophomores or juniors pursuing a scientific and engineering research career. Kevin says he was inspired to apply for the scholarship by one of his peers he met in the lab, Dillon Rinauro, who had previously been an honorable mention recipient for the scholarship.
"I had the honor of knowing Dillon through my research in the lab with Dr. Moffet," Kevin said. "I looked up to him because of his intellectual intensity and mature mindset. Thanks to him, I was inspired to apply to the Barry Goldwater Scholarship and advance my career in research."
Drawn to LMU for its Jesuit mission and welcoming community of students, Kevin says that his college experience wasn't just relegated to the lab and that the diverse opportunities he was afforded broadened his mind and group of friends in the best of possible ways. For instance, flexibility in his schedule allowed him to pair his Biochemistry major with a minor in Asian Pacific Studies. Additionally, he was a member of Magis, a service organization through the LMU Center for Service and Action, and was Secretary of LMU's Chinese American Cultural Club.
"I feel like the environment and culture at LMU allows for a well-balanced approach to both academics and student life," Kevin said. "LMU does an excellent job of introducing its students to new ideas, friends, opportunities, and the person you can become if you put your best foot forward."
As for what advice he has for future LMU Lions?
"Push yourself outside your comfort zone and be okay with change," Kevin said. "College is the perfect place to try new things, meet people different from yourself, and become a part of a community that has your back."