Policy for Change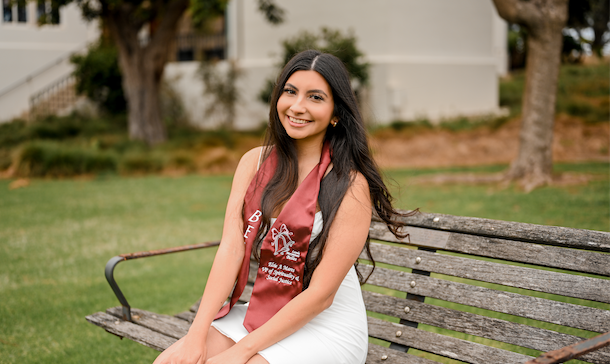 Elsie Mares has always known that she wanted a life of meaning and purpose. After four years at LMU, she understands what life "with and for others" means for her promising future.
As the recent recipient of the prestigious Herbert Scoville Jr. Peace Fellowship, Elsie is on her way to making her policymaker aspirations a reality. As a Scoville Fellow, Elsie has been granted the opportunity to gain perspective on critical issues of peace and security as a junior staff member in Washington, D.C. , working with an international peace-building organization on issues of foreign policy and advocacy..
Originally from Bakersfield, California, Elsie earned a baccalaureate degree in political science from the top-ranked LMU Bellarmine College of Liberal Arts, and shares that her primary interest is in addressing the root causes of migration and refugee crises and hopes to affect policy by drafting it through a more compassionate lens.
"I want to help figure out how the U.S. can cooperate with other countries to create sustainable peace and stability that will allow people to live safe, dignified, and secure lives at home without being displaced," Elsie, who also minored in Economics, said. "I think there needs to be more diverse voices in the policymaking realm, voices that focus on the humanity security angle in foreign policy."
Elsie is no stranger to issues involving diversity, equity, and inclusion (DEI). She is also the recipient of LMU's 2021 Arrupe Diversity, Equity, and Inclusion Award for her DEI academic contributions to the university and community. The award is named in honor of Jesuit Superior General Father Pedro Arrupe, S.J., who worked tirelessly for the promotion of justice in the service of faith.
"Thanks to my LMU education, I think my worldview has been challenged and expanded," Elsie said. "I now feel prepared and confident to pursue my passions and focus on the issues that mean the most to me."
In addition to her numerous academic achievements, Elsie was very active on LMU's student life scene. She was Vice President for the Associated Students of Loyola Marymount University (ASLMU), LMU's student government, and was a member of the Belles service organization through the LMU Center for Service and Action. Additionally, she was Vice President of Spirituality and Social Justice for LMU's Intercultural Facilitator Program, a student-led program that develops students who are interested in being a part of a cultural change and bridging the gap where gaps exist.
Originally drawn to attend LMU for its Jesuit mission and like-minded student community of thinkers and changemakers, Elsie says that a particular highlight of her LMU experience was a semester spend studying abroad in London as a Hansard Scholar, a fully-funded scholarship opportunity offered through the LMU Institute for Leadership Studies. While there, Elsie had the chance to intern with a member of Parliament and attend classes at the London School of Economics.
"I got an in-depth view of the processes and mechanisms within law-making," Elsie said. "The whole experience solidified my passion for wanting to go into policymaking.
She adds that her time spent as a Hansard Fellow sums up her LMU educational experience perfectly:
"If you do it right, the learning skills you acquire in the classroom are complemented by opportunities for experiential learning in the real-world, working to solve real problems," Elsie said.
As for what advice she has for future LMU Lions?
"There's a lot of people at LMU who will be your advocates and mentors," Elsie said. "To the students about to join the LMU community, come into your experience with an open heart and mind. You will meet so many people who will want to advocate for you, not to mention all the learning experiences that you are going to have that are going to expand your way of thinking. It's a wonderful, challenging, and transformative experience. Come in ready to say 'yes' as much as you can."