Taking the Lead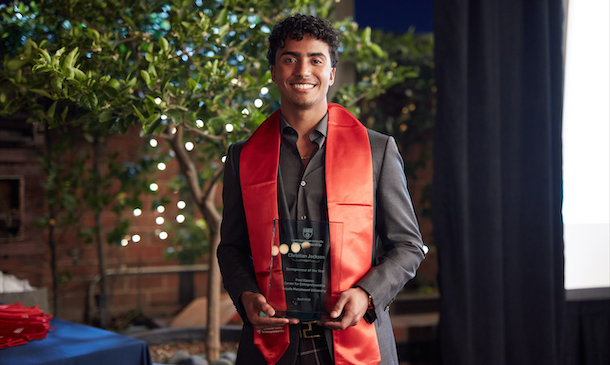 You'll find Christian Jackson, LMU's 2022 Valedictorian, where opportunity meets preparation. Earning a dual degree in Entrepreneurship and Information Systems and Business Analytics (ISBA), Christian says that his time at LMU empowered him to pursue his entrepreneurial dreams and launch a startup that has the potential to make an impact in the real world.
That startup is called Mula, an enterprise that aims to help individual creators and small production companies build out their business infrastructure by providing an all-encompassing solution for income-tracking, collaboration splits, and rapid payments.
"Mula is the product of my time as an LMU student, the opportunities I was afforded and took advantage of," Christian, honored as LMU's 2022 Program Scholar for Entrepreneurship, said. "It was always my goal to have a startup operational before I graduated. The lessons I learned inside and outside the classroom, specifically via LMU's Business Incubator, enabled me to do this."
LMU's Business Incubator is a semester-long course that allows students to gain firsthand experience running a startup. Student teams admitted to the Incubator receive access to a workspace, funding for prototype development, and valuable advice from subject matter experts, seasoned entrepreneurs, and investors.
Christian says that he will continue to work on establishing Mula after graduation while working as an apprentice to Paul Orfalea, Kinkos founder and faculty member in LMU's entrepreneurship program. In his apprentice role, Christian will oversee the financial aspects of Orfalea's business and handle his day-to-day communications, among other duties.
Originally drawn to LMU for its top-ranked LMU College of Business Administration and entrepreneurship program, Christian says that his desire to embody the university's mission went beyond the classroom. Case in point, he co-founded the LMU chapter of Brothers of Consciousness with fellow Lion Dezmin Hemmans. Christian describes BOC as a Black male leadership organization whose mission is to promote the values of leadership and social justice within the Black community and LMU community at large. During the summer of 2020, BOC partnered with 40 different LMU student organizations to raise over $50,000 to support Black Lives Matter protesters, enact legislative change, and support the Black community in Los Angeles and across the country.
As for what advice Christian has for incoming LMU Lions?
"Get to know your faculty, especially the people who run your department," he said. "Many opportunities for jobs and internships come across their desks, and if they know you and know what you're interested in, they can suggest those opportunities to you. Also, don't be afraid to fail. If you haven't failed yet in pursuit of your passions, the odds are that you're not giving it your all."