Close-Up on Excellence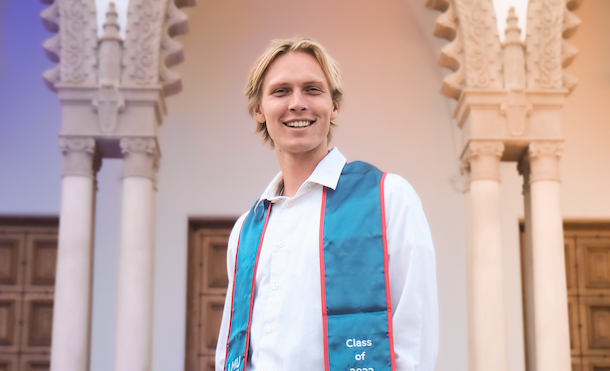 Declan Tomlinson, Class of 2022, is set to serve as an economic development facilitator in the Peace Corps in Fiji for the next two years. In his role, Declan will work with local communities to help grow business and social/community projects and hopes to bring these practices back to his own community one day.
Growing up in Eagle, Idaho, Declan made many short films with his brothers. It was his love for movies that initially drew him to Los Angeles, but it was during his time as a student in the LMU Bellarmine College of Liberal Arts that he uncovered his true passion for studying critical global issues. Earning a dual degree in international relations and economics, Declan was able to delve into the complexities of these issues to better understand the roles of individuals, governments, and NGOs in promoting sustainable development and positive change.
"The majors work so well together," Declan said. "I primarily focused on economic development courses for economics, which allowed me to mix my coursework with humanitarian aid and U.N. politics from the international relations major."
Recognized as LMU's 2022 Program Scholar for International Relations, Declan was also a member of the Political Science and International Relations Department Honors Program. One of its requirements is for students to complete original research or a creative thesis under faculty mentorship. Declan saw this as a unique opportunity to combine his interest in film production with his academic background in international relations and economics. His thesis film "Code Red: An Exploration of Degrowth Economics" explores the growing discourse of degrowth economics, which critiques the current status quo of economic thought.
"When I found out I could do a film for my honors thesis, I immediately chose to do that, and the idea came pretty naturally," Declan said. "It was a challenge since I was all on my own. I used Adobe After Effects and interviewed many scholars worldwide who are currently studying different aspects of this diverse school of thought."
The LMU Global Policy Institute, where Declan served as a fellow, premiered the film. He plans to make some refinements and additions before submitting it to several student festivals. Declan's filmmaking and podcasting skills were also a tremendous asset to the Global Policy Institute, which hosts high-profile speakers and special panel presentations to engage the LMU community and beyond in conversation about emerging issues of global concern.
"The Global Policy Institute has been an incredible part of my undergraduate experience," Declan said. "I have had the opportunity to engage with top scholars and policymakers and even attend events like the Hilton Humanitarian Awards in 2019, where I saw some pretty famous people and was inspired by all of the changemakers in the room."
As for what advice Declan has for incoming LMU Lions?
"Try to get involved in things you are passionate about and don't feel like you must do everything," he said. "It is good to be intentional about the things you spend your time with. I would also remind you that you are only 18-22, and it is essential to do stuff with friends and explore what L.A. offers. The work will get done if you are passionate about it, so make sure you have fun too."