Intern Inspiration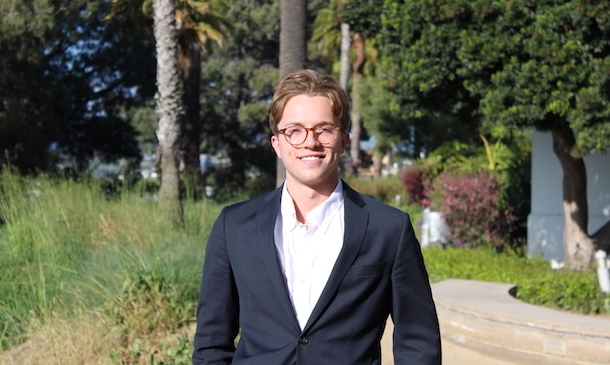 From the Gateway to the West to the West Coast, it didn't take Andrew Nester long to realize the promise of opportunity that awaited him 1,800 miles from home. "I knew LMU was right for me during my first visit to the bluff," Andrew shared. "I was looking for a small to medium-sized school to have that access to professors and university resources, but I also wanted to step out of my comfort zone in an environment with a strong sense of community and foundation. The connection was instant; it was easy to see my life there."
The St. Louis native pursued entrepreneurship in the top-ranked LMU College of Business Administration. "I chose entrepreneurship because I wanted to get as broad an understanding as possible regarding my business classes," Andrew remarked. During his four years, he participated in different programs that expanded on the college's offerings, including the LMU Entrepreneurship Society and the Lion Investing Society.

And he certainly maximized his experience – much of which he attributes to his professors. With a hands-on teaching approach across the college and tailored curriculum to reflect real-life, practical application, Andrew knew to watch for opportunities that emerged from their network. He also knew that LMU's Career and Professional Development (CPD) office was a campus resource vital for building his career path.

"I held three internships at LMU, and I credit a lot of that success to CPD," Andrew said. While his first internship came through an email from Professor of Entrepreneurship Dr. David Choi inviting students to apply to startup Kiwibot, his two subsequent internships were cultivated from CPD.

CPD's services extended far beyond job alerts. It included resume building, facilitating connections with recruiters and offering ongoing guidance and support. All of which were critical during the uncertainty of navigating the impacts of a global pandemic. CPD stepped in to ensure Andrew's role as an international intern with French company Neptech was still a go, even though he could no longer go abroad. Thanks to their assistance, he was able to complete the internship remotely.
"CPD was a compass to navigate COVID when no one had the formula," Andrew reflected. "They doubled down and were hands-on with students by holding Zoom consultations. I had zero luck before CPD. After working with them, I started to see responses. I may not have always gotten the job, but I got an interview."
The intern track would continue for Andrew as a sales intern for Oracle, where he was later promoted to senior intern. Amidst presentations and projects in different capacities of the company, his year-long internship with Oracle extended to a full-time job offer. In September, Andrew will begin his new role as a business development representative for Oracle Netsuite in their Santa Monica office.
What is Andrew's advice for future Lions? It should be no surprise that his words of wisdom point to CPD.

"As students, it's always good to have a sounding board. CPD has that expertise and can give you honest feedback, but what made a difference was how they went the extra mile to connect with recruiters and ensure my cover letter made an impression. Take advantage of CPD; they're literally there to help you succeed! I left more prepared for the real world every time I met with them."