By the Numbers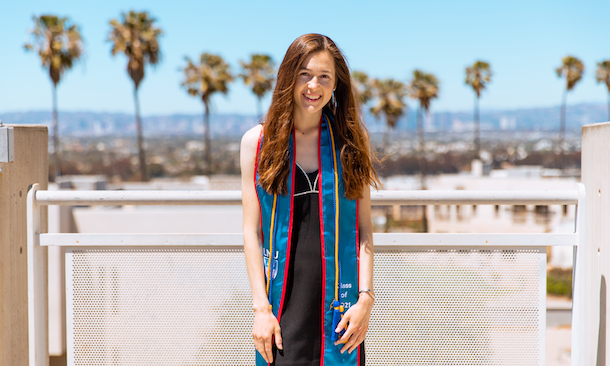 Jessica Fouch is headed to Deloitte to work as a Tax Consultant after earning her B.S. and M.S. degrees in Accounting through the LMU College of Business Administration's 4 + 1 Program, a time-saving opportunity for LMU students to pursue a four-year bachelor's degree, followed by a one-year, full-time master's program.
Honored as LMU's 2021 Program Scholar for Accounting, Jessica previously interned for Deloitte's tax services division last summer, a rewarding experience, she says, made all the better thanks to her time at LMU.
"Thanks to its liberal arts setting and curriculum, LMU did a wonderful job of helping me to become a more well-rounded individual and pre-professional," Jessica, who is originally from Manhattan Beach, California, said. "It offers students the best of both worlds — a close-knit campus community surrounded by the big city perks of Los Angeles."
Drawn to LMU for its top-ranked LMU College of Business Administration, Jessica says that a highlight of her time on the bluff was participating in LMU's Accounting Society. The student organization, which is just one of over 200 student clubs and organizations available to students, aims to be a resource for students of any major to help them connect and network with firms and professionals in the public accounting industry.
"It's through my participation in LMU's Accounting Society that I was able to connect with a lot of accountants with the Big Four firms and ultimately land a job at Deloitte before I graduated," Jessica said. "Not to mention, it was just a great way to meet people and make friends."
Outside of the accounting realm, Jessica says that her public speaking and rhetorical arts courses enabled her to strengthen some of her weaker skills that she believes will prove very beneficial down the line.
"Before LMU, public speaking was never really in the cards for me," she said, "but after taking these two classes, I can communicate in a much more nuanced, concise, and effective manner, and that's a skill that can never hurt to have in one's toolkit, especially in business."
As for what advice she has for incoming LMU Lions?
"Take advantage of all the wonderful networking opportunities LMU provides you," Jessica said. "And I recommend getting to know your professors and seeking out those opportunities for faculty-scholar collaboration. You can't get that type of experience at the bigger schools. It's unique to LMU."