Research for the Greater Good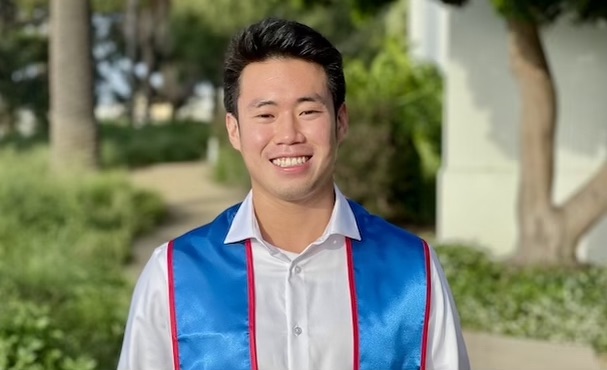 Michael Liu's LMU experience was anything but by the book. It challenged and inspired him to "be more for the greater good," a Jesuit philosophy he intends to carry into his next chapter as a research trainee at the National Institutes of Health (NIH) in Bethesda, Maryland. In his role, Michael will be investigating the long-term effects of COVID-19 on mental health, paving the way for what he hopes will one day be a career as a clinician-researcher attending to underserved populations.
"I am so grateful to have chosen LMU as my second home," Michael, who earned his baccalaureate degree in biology, said. "It was the perfect college for me and has provided me with countless opportunities to be challenged and grow as a person and a scholar."
The recipient of LMU's prestigious 2022 Ignatian Award for excellence in service, leadership, and academic achievement, Michael says he feels amply prepared to embark on the next leg of his educational journey thanks to the wealth of undergraduate research experiences he was afforded on the bluff.
For instance, the summer before his senior year, Michael participated in LMU's Summer Undergraduate Research Program (SURP) with Dr. Jennifer Abe, an LMU professor of psychology, as his mentor. The pair explored resilience in college students, comparing differences in levels of depression between first-generation and non-first-generation LMU students. In October, he will present these findings at the Los Angeles County Psychological Association's 35th Annual Convention. He also worked in Dr. Kathryn Mouzakis' biochemistry lab to investigate the changing frameshift efficiencies in the HTLV-1 virus caused by differences in RNA structure.
Originally drawn to LMU for its top-ranked LMU Frank R. Seaver College of Science and Engineering and its Jesuit mission, Michael spent plenty of time outside the lab striving to become a person with and for others.
"I love how the ten service organizations at LMU are unique to the university itself," Michael said. "It provides a direct way for students to serve the community and engage in social justice issues."
As President of Magis, an all-male service organization at LMU via the Pam Rector Center for Service and Action, Michael spearheaded multiple fundraisers and initiated programs to support unhoused persons during the height of the pandemic, including the distribution of 250 hygiene kits, 1,000 surgical masks, 700 bottles of hand sanitizer, shoes, underwear, and socks at an L.A. food pantry. He also led a campus-wide program to raise awareness about the refugee crisis at the border, raising funds to purchase 800 gift bags containing masks, hygiene supplies, and toys, to distribute on a service trip to a refugee center in Tijuana, Mexico. Michael says that for this service trip he assembled a team to host a children's program and recruited three doctors and a dentist to provide free health care services.
In addition to devoting his time to research and service pursuits, Michael also worked as a freshman biology lab teaching assistant, where he helped guide classes of 13-16 students through various lab activities.
As for what advice Michael has for incoming LMU Lions?
"Don't be afraid to fail," he said. "Rejection is redirection. Be grateful for your mistakes because they are carriers of grace and give you the chance to become a better person."