Accounting for Success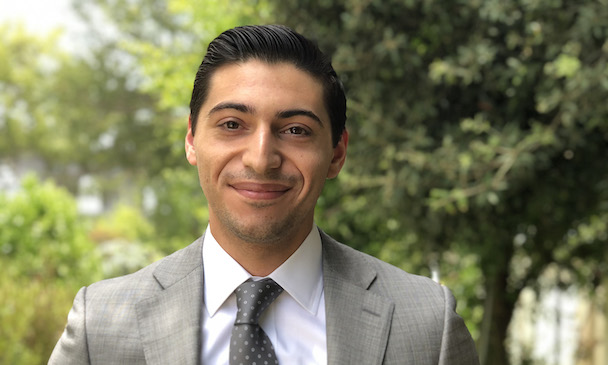 Senior accounting major Simon Sadeghi spent his summer as a tax intern at Armanino LLP, working in the tax segment of the accounting firm. When he graduates this December, the Los Angeles native plans to pursue his M.S. degree in Taxation at LMU while also working on getting his CPA license. He hopes to pursue a career in public accounting, specifically in the tax industry.
"The LMU College of Business Administration has helped me learn how to connect and meet professionals, as well as enabled me to build the hard skills and soft skills to be prepared for a career in accounting," Simon said. "My professors prepared me well to reach out to industry professionals, to know what to say during interviews, and to identify what specific areas of the industry interested me most."
Transferring to LMU from Santa Monica College in 2020 as a junior, Simon said he was drawn to the university's top-ranked LMU College of Business Administration and the smaller class sizes that would enable him to connect more closely with professors. LMU currently boasts average class sizes of 19 and a student to teacher ratio of 10:1.
LMU's transfer enrollees comprise 22 percent of the university's entering student population, with nearly 600 students, on average, transferring to the bluff from community colleges and other four-year institutions every year. Additionally, LMU Transfer Admission and Enrollment Services has been recognized by the Phi Theta Kappa Honor Society (PTK National Honor Roll) every year since its induction in 2016.
"Overall, my LMU experience has been very warm and welcoming," Simon said. "I've loved having the opportunity to connect with my professors in the small classroom environments and learning as much as I can from them. Each of my business classes has helped me grow a bit differently, and they've all stuck with me because they've each taught me a very important lesson."
Outside of the classroom, Simon is also involved in several student clubs and organizations, including as Director of Technology for the LMU Accounting Society. This student organization, which is just one of over 200 student clubs and organizations available to students, aims to be a resource for students of any major to help them connect and network with firms and professionals in the public accounting industry.
As for what advice Simon has for incoming LMU Lions?
"Get involved with as many clubs as you can," he said. "And take advantage of connecting with the wonderful professors that you have."