Properties of Success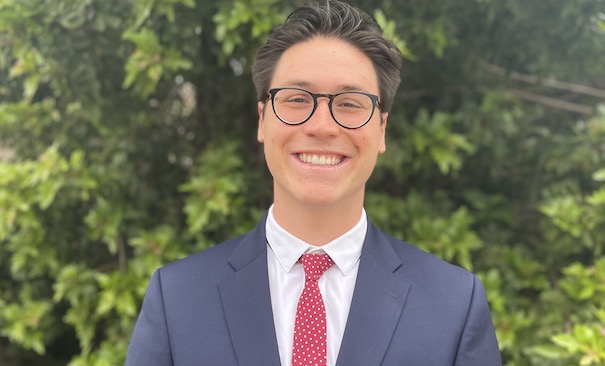 Calvin Foss, Class of 2021, recently began working as a Junior Specialist in the Hasenstaub Lab in the Center for Integrative Neuroscience and Department of Otolaryngology at the University of California San Francisco. In his role, Calvin is tasked with a range of duties, including lab management and assisting in research that studies the function of the auditory cortex of mice and humans. The San Francisco native plans to stay in the role for two years, at which point he hopes to pursue a Ph.D. program in neuroscience.
"I think my LMU experience pushed me to become a more independent thinker and individual," Calvin said. "The opportunities for undergraduate research and campus involvement motivated and facilitated my growth as a person with and for others. And as a result of my four years on the bluff, I now feel more confident and empowered to take my next steps as a young professional and researcher."
Honored as LMU's 2021 Program Scholar for Physics, Calvin worked alongside faculty mentor and LMU professor of physics, Dr. Zahra Alavi, researching the mechanical properties of biological macromolecules to understand better the molecular dynamics of certain enzymes within the human body.
"Through biophysics research, Dr. Alavi and I were looking at how particular enzymes in the body react to applied forces," Calvin said.
Calvin explained that the ability and efficiency of an enzyme to do a specific biological task is coupled to its mechanics. These mechanical properties can be studied using a nano-rheology technique, in which a mechanical force is applied to the molecule under study, and the response of the molecule is studied.
"I was able to learn a great deal about how viscosity and elasticity are important aspects of an enzyme's form and function," Calvin said.
Originally drawn to LMU for its Jesuit mission, prime L.A. location, and top-ranked LMU Frank R. Seaver College of Science and Engineering, Calvin said that a particular highlight of his LMU experience was taking part in the Ignacio Companions (IC) program, service-based immersion trips to different parts of the world arranged through LMU Campus Ministry.
IC Trips focus on three Core Values: Community, Solidarity, Faith/Justice. Participants are challenged to expand their worldview, open themselves to the reality of the people they encounter on the journey, and find God in all places and things.
"The IC trips I took to the Dominican Republic and Haiti provided me with a once-in-a-lifetime opportunity to explore my spirituality and become more globally-minded," Calvin said. "My experiences abroad helped me think long and hard about my own goals for the future, where I've come from, where I'm going, and how I can use my unique talents to make the world a better place."
Outside of the classroom and lab, Calvin was also a member of LMU's club rugby team and Sigma Phi Epsilon fraternity, among other extracurricular pursuits.
As for what advice he has for incoming LMU Lions?
"Take advantage of as many of the opportunities LMU affords you as possible," Calvin said. "I tried to get involved as I much as I could, and the relationships I've formed through those experiences have really benefited me thus far on my post-grad journey."