Designs on the Greater Good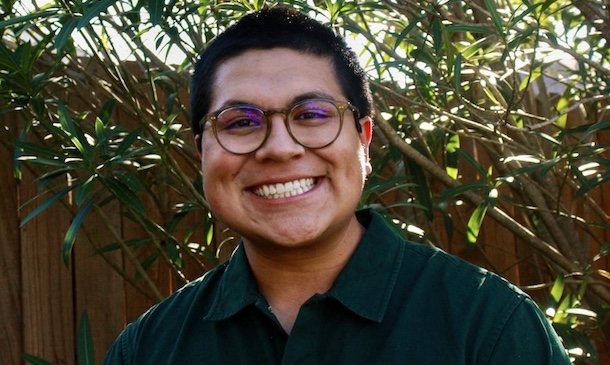 José Miguel Camacho, a senior studio arts major with an emphasis in graphic design, combines his love for art with his passion for social justice. This past summer, he interned at the Getty Museum in Los Angeles through its prestigious Getty Marrow Undergraduate Internship program, which introduces students from underrepresented communities to careers in the arts.
Throughout the internship, José worked with the Getty Center's Teen Programs, where he facilitated and led the Student Gallery Guides program. In this role, he was in charge of helping high school students from the Los Angeles Unified School District learn how to create space and conversation around a work of art and lead guided virtual art experiences for K-12 classes around L.A.
"Growing up, I never knew any other people who were as into art as I was, and I never had that supportive, creative community until later in my life," José, who is originally from Houston, Texas, said. "To know that there even were so many high schoolers who enjoyed art gave me so much passion and hope and excitement for the future."
José, who is also minoring in art history, says that he was drawn to the bluff for its top-ranked LMU College of Communication and Fine Arts and its holistic approach to undergraduate education, for which his art and sense of self have benefited.
"The educational landscape at LMU has really helped me to branch out and meet and collaborate with people of all different walks of life," José said. "They are the types of experiences I don't know that I would have been able to get at another university."
He added that a particular highlight of his time at LMU has been working at LMU's Laband Art Gallery and not only immersing himself in a gallery space and culture but becoming an active participant in its exhibitions and communications strategy.
For instance, in collaboration with Laband, José helped launch a project designed to advocate and center BIPOC student artwork called AMPLIFY. He has already interviewed and featured over a dozen BIPOC LMU artists on Laband's Instagram (@LabandArtGallery) using the AMPLIFY project to fight against the status quo.
"The purpose of AMPLIFY is to "amplify" the voices of BIPOC students, faculty, or alumni in the LMU arts community, whether it be fine art, performance art, education, etc.," Jose said. "I am passionate about supporting fellow artists of color because the status quo is not in our favor."
Outside of the art world, José is also actively involved with the LMU Center for Service and Action, in particular, their Alternative Breaks (AB) program, which is designed to offer trips based on a diverse set of social justice issues and encourages student participants to think critically about social conditions and the root causes of challenges facing communities on a local and global scale.
As for what advice José has for incoming LMU Lions?
"Take advantage of the many opportunities LMU provides you with to expand your worldview," José said. "I've been able to grow so much as a person through my experiences with the Center for Service and Action and LMU Campus Ministry. I'd be a completely different person if I hadn't had taken advantage of those opportunities over my four years on the bluff."