Word to the Wise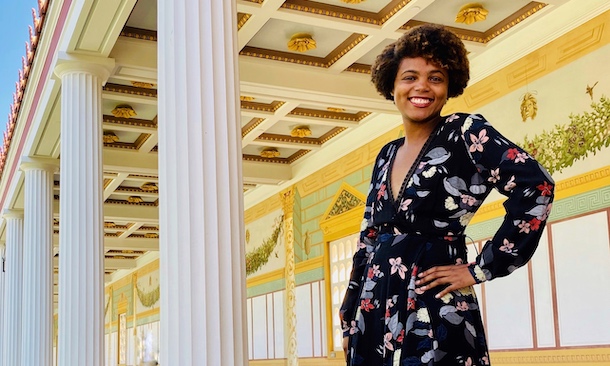 Mikayla Gingrey-Osborne — the recipient of LMU's prestigious 2021 Marian Award for excellence in service, leadership, and academic achievement — gets the big picture. Earning a baccalaureate degree in Screenwriting from the top-ranked LMU School of Film & Television, Mikayla is poised to turn her big dreams into positive change through evocative storytelling. The Seattle, Washington native is currently embarking on her next chapter at LMU as a Master of Fine Arts (MFA) candidate on the Writing and Producing for TV track.
"As a Jesuit institution, there is a huge focus on social justice and doing service with and for others," Mikayla, who also minored in history and political science, said. "In class, I learned the intellectual understanding of this, and now as I'm moving into my post-grad life, I'm emboldened to take action."
Mikayla added that striving to be an agent of change starts by making a difference through her writing. For instance, her undergraduate thesis screenplay, "The Unexpected Hero," a revisionist tale of Civil War-era historical fiction, reimagines the life and times of Harriet Tubman and aims to tap into the humanity of the woman behind the legend.
Recently, her screenplay was selected as one of seven winners in the We Screenplay College Competition. Additionally, it ranks in the top 4 percent of discoverable screenplays on Coverfly, one of the entertainment industry's largest platforms for discovering up and coming writers.
Intrigued by its Jesuit mission and proximity to the Los Angeles film industry, Mikayla says that a particular highlight of her LMU experience was the opportunity to expand her global mindset through several BCLA Global Immersion courses and Ignacio Companions (IC) Trips with the LMU Center for Service and Action.
"Through these once-in-a-lifetime experiences, I was able to understand what being a servant leader, and global citizen truly means," Mikayla said. "Not to mention, developing a deep care and compassion for people regardless of race, gender, or nationality."
Outside of her academic pursuits, Mikayla was also active on campus in various student clubs and organizations. She served as President and Special Projects Chair for the Belles service organization, was a Christian Life Community (CLC) Leader for LMU Campus Ministry, and was a Resident Advisor, among other involvements. Additionally, she is the recipient of The Father Graham Award, an annual honor given by the Alumni Association to one female and one male graduating senior for their outstanding commitment to service and leadership.
As for what advice she has for future LMU Lions?
"Dream bigger," Mikayla said, "and push yourself to do things you never thought possible. I think that, in general, the LMU community is a group of people who want to see you succeed and grow. You'll see... when you walk onto LMU's campus, you'll immediately feel at home."