Best Foot Forward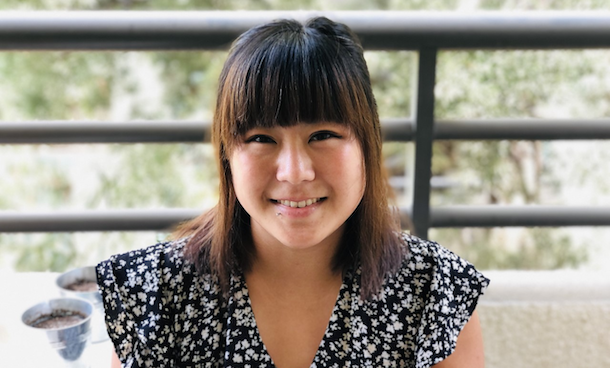 Teresa Ueunten, LMU's 2021 Valedictorian, isn't one to shy away from a challenge. Originally from Albany, California, Teresa says that her time at LMU empowered her to step outside her comfort zone and venture down new avenues of thought and creativity to put her best self forward in pursuit of something greater.
"I never really thought of myself as the Valedictorian-type," Teresa, who transferred to LMU from Lakeland University Japan her junior year, said. "But my LMU experience taught me to believe in myself and my abilities, to seize opportunities when they presented themselves, and reach for the moon."
It was the beautiful campus, welcoming vibe, and Los Angeles location that made choosing LMU an obvious choice, but Teresa shares that it was the university's range of resources and support services that helped make her transition to life on the bluff nearly seamless. From the Academic Resource Center to Career and Professional Development, she says there was a guiding hand at every corner. Her personal go-to was Student Psychological Services, where she could vent, de-stress, and power up.
"It was just a godsend," Teresa said. "I cannot advocate for them enough. It's free, and it's on campus. No matter your field of study, everyone has problems, and at LMU, there's a place you can go to talk them out and become a better you, to power up for that next big hurdle."
Case in point, in the Spring of 2019, Teresa decided to take part in the top-ranked LMU College of Communication and Fine Arts' annual Mystery Box Challenge, in which participants receive a box of random items and are tasked with creating a sculpture out of the odds and ends that speak to a specific theme. The theme for that year was "Robots and Automatons." Teresa received a box containing paper fans, a plastic eye patch, gray yarn, twist-tie, etc.
"This was during a time when I was delving mostly into digital art," Teresa, who earned a baccalaureate degree in Studio Arts with a concentration in Multimedia, said. "So I was thrilled to have the opportunity to express myself with physical materials and to get messy with paint and glue using my hands."
Out of the miscellaneous items, Teresa created an evocative sculptural piece titled "Wellspring," which depicts a human hand and robot hand embracing. Much to her surprise, it won her the Rudinica Family Art Scholarship.
She recalls the memory fondly and says that the piece could almost be a visual representation of her experience as an LMU student juggling a Studio Arts major with a minor in Computer Science.
Last summer, she jumped at the opportunity to put skills from both disciplines to good use as a graphic design intern for TurnUp, an app that caters to youth activism.
"When I first started off creating art, my aim was just to make pretty stuff," Teresa said. "But it was during my internship experience that I realized art has the power to influence people to listen, that it can act as a tool for social change."
In addition to her academic and artistic pursuits, Teresa motivated herself to participate in extracurricular activities on campus. Her experience with the LMU Student Brewing Club and Animation Club helped balance her and provided opportunities to connect with other students with similar interests or on their own journey of exploration.
Looking to the future, Teresa plans to move back to the Bay Area to be closer to family and pursue a career as either a graphic designer or creative technologist.
She has this advice for.future LMU Lions...
"Be willing to try everything that intrigues you," Teresa said. "Just through the simple act of trying, great things can happen. It's how I believe I became Valedictorian. I just thought to myself, 'why not try?'"