Sum of Success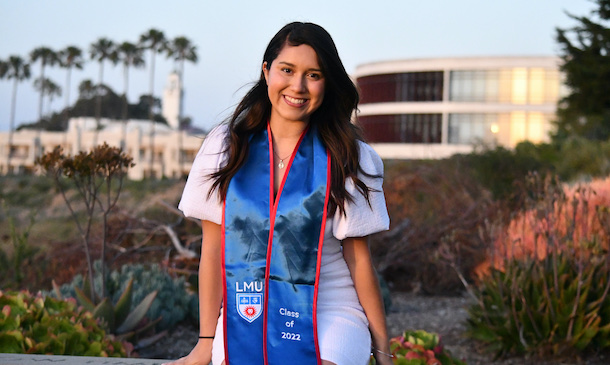 The sum of Elena Martinez's experiences at LMU adds up to a giant post-grad outcome. This fall, she will start a Ph.D. program in computational and mathematical engineering at Stanford University. Her research will focus on mathematical modeling for the human body, specifically to address cardiovascular disease. Awarded a 2022 National Science Foundation Graduate Research Fellowship and a Stanford Graduate Fellowship, Elena's graduate education will be fully-funded for its five-year duration.
"LMU could not have given me a better foundation to build upon moving forward," Elena, who earned a dual degree in applied mathematics and computer science, said. "Its community of students and faculty is unparalleled. I don't think I will ever find myself in another place where everyone is rooting for you to succeed like they do on the bluff."
Elena says that a turning point in her LMU experience came the summer before her freshman year when she participated in the LMU Frank R. Seaver College of Science and Engineering's Google Computer Science Summer Institute.
"I had never done any computer science, and I learned to love it through that program," Elena said. "I decided to double major and to do research using computer science to apply mathematics to different fields."
From there, Elena immersed herself in undergraduate research, embarking on the first of a series of studies she conducted under the mentorship of Anna Bargagliotti, professor of mathematics. With fellow student Jack Mauro, Elena took a data science approach to examine proposed strategies for combating homelessness in L.A. County — research that won the American Statistical Association's Fall Data Challenge.
She then became involved in a National Science Foundation project using millions of data entries to identify ways to improve diversity in the computer science pipeline. In the summer after her sophomore year, she conducted research at Stanford University on cardiovascular biomechanics — work she continued at LMU and now hopes to make her focus in graduate school. Elena was recognized as an Edison International Scholar at the Great Minds in STEM Conference for her efforts. She is also a McNair Scholar, which helped fund a number of the presentations she delivered at scientific meetings.
In addition to her coursework and research endeavors, Elena also took advantage of opportunities at LMU outside the STEM realm. She volunteered her time as a tutor to ESL students through LMU's Pam Rector Center for Service and Action, participated in Mexican folklore dancing through Grupo Folklórico de LMU, and worked as a student tour guide for Undergraduate Admission. Additionally, she was President of LMU's chapter of the Society of Industrial and Applied Mathematics (SIAM) and is a member of Alpha Sigma Nu, the Jesuit Honors Society.
As for what advice Elena has for incoming LMU Lions?
"Be curious, and don't be afraid to ask questions," she said. "I would not be where I am today had I been afraid to ask for help. At LMU, the faculty and your fellow students will want to help you succeed."