Business Minded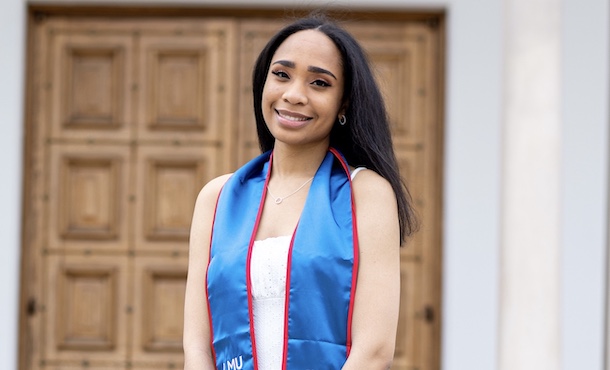 Since graduating from LMU, Noel Womack-Henderson has been busy working as a Recruiting Coordinator for Momentive.ai, the maker's of SurveyMonkey, supporting the experience management company's hiring goals and strategic initiatives. Earning a baccalaureate degree in Business Management from the top-ranked LMU College of Business Administration, Noel says that her transition from student to young professional was swift thanks to LMU's rigorous academic curriculum and opportunities for professional development.
"LMU's dedication to the education of the whole person was felt and appreciated throughout my college career," Noel, who is currently based in Las Vegas, Nevada, said. "It helped me grow as a business professional and taught me how to strive to be a global leader with and for others."
Noel added that the resources LMU offers its students for exploration and growth are many, but at the top of her list was the guidance and support she received from LMU Career and Professional Development (CPD).
"CPD really helped me to lay a foundation for my professional future," Noel, who started utilizing CPD's services her sophomore year, said. "In particular, the tips and guidance I received from Career Coach Marcy Newman really opened my eyes to the professional development journey and how I could leverage my unique skill set and passions to become more attractive to the workforce."
Noel's proactive approach to her education and professional development didn't stop there. Through collaboration with the college of business, she helped launch the LMU International Business Society in the fall of 2020, for which she held the position of Co-President.
IB Society aims to bring students interested in global business together to advance their knowledge about international markets and business practices. Moreover, it provides an outlet for students to network with global business leaders, explore career paths, learn about other cultures and promote awareness of global issues.
"IB Society was a wonderful experience," Noel said," especially being able to see it develop as an organization and help to create a more inclusive community on the bluff. It has become another great way to create connections and foster relationships through CBA."
In addition to her participation in IB Society, Noel was also a Resident Advisor, an Orientation Leader, and took part in several other student organizations, including Sisters in Solidarity. This on-campus organization promotes unity and cultural engagement for women and non-binary students of color.
As for what advice Noel has for incoming LMU Lions?
"Step outside your comfort zone and don't doubt yourself," she said. "Be teachable and open to feedback, and always on the lookout for opportunities for growth and development. They shouldn't be hard to find. At LMU, they are at every turn."