Best Self Forward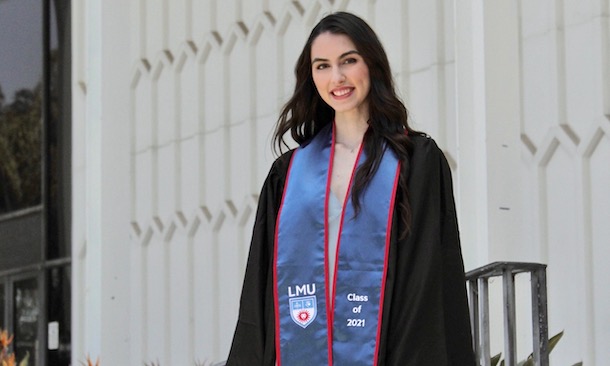 Amanda Meegan, Class of 2021, made the most of her LMU experience, and it's paying off in spades. The Chicago, Illinois native is now based in Sydney, Australia, where she works as a Digital Marketing Analyst for Brighte, a sustainable energy financier and one of Australia's fastest-growing startups. Earning a baccalaureate degree in Marketing Analytics, Amanda has committed to attend the Massachusetts Institute of Technology (MIT) for her M.B.A. degree in 2026. She was admitted via MIT's early admission program, allowing students to commence their graduate studies anytime within 2 – 5 years of admission.
"My favorite part of working with data is uncovering insights that can help optimize customer experience," Amanda said. "The data I work with at Brighte explores what's going on our product platforms and marketing channels and identifies where there are areas to optimize for a better user experience and outcomes in both places."
Before her role at Brighte, Amanda was an Associate Digital Analyst for The Walt Disney Company. She also interned at Disney Television Studios, the California Governor's office, and the U.S. Department of Commerce, experiences she found to greatly compliment her coursework in the top-ranked LMU College of Business Administration.
Originally drawn to LMU for its comprehensive student experience and Los Angeles location, Amanda says she was sold on a Jesuit education after visiting LMU's campus for a tour.
"When I got to campus, it had an atmosphere unlike any of the other colleges I had toured up until that point," Amanda said. "All of the students and faculty I encountered had smiles on their faces and seemed super approachable. I got the impression that the LMU community was a space where all could be themselves, and feel supported pursuing their passions. This was absolutely my experience."
Amanda says that a particular highlight of her LMU experience was getting to study abroad in Australia for four weeks through a fully-funded international research fellowship via the University Honors Program. While down under, Amanda explored perceptions of success in digital marketing as seen through a global lens.
"I found the importance of culturally informed approaches to digital marketing extremely effective in that you are reaching out to an audience with their unique voice," Amanda said. She would go on to present her research findings at Harvard University.
In addition to her coursework and internship pursuits, Amanda was actively involved on LMU's campus scene. She was a member of the Creare service organization via the Pam Rector Center for Service and Action, Juggler's Unite, and was a tour guide for LMU Undergraduate Admission.
As for what advice Amanda has for incoming LMU Lions?
"Get involved, and leave no stone unturned when it comes to exploring opportunities that intrigue you," Amanda said. "Additionally, the faculty at LMU really challenge you to do your part to make the world a better place, and when you can find harmony with that mission and your career interests, it is really fulfilling."