Next Up for Success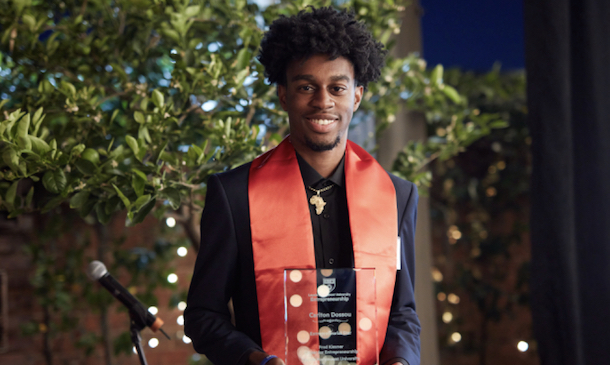 Entrepreneurship grad Carlton Dossou is putting the LMU mission into action for the greater good. Through LMU's Business Incubator, Carlton launched and is at the helm of We Got Next LA, a non-profit after-school program that aims to serve K-12 inner-city and at-risk youth. The program offers tutoring, mentoring, extracurricular classes, special events, and community outreach opportunities.
LMU's Business Incubator is a semester-long course that allows students to gain firsthand experience running a startup. Student teams admitted to the Incubator receive access to a workspace, funding for prototype development, and valuable advice from subject matter experts, seasoned entrepreneurs, and investors.
"I was once one of the inner-city youths that We Got Next LA will be serving, so I know from personal experience what it is like to try and make something of yourself," Carlton said. "I felt like someone needed to step up and help make a difference, and I asked myself, 'why not me?'"
Carlton says that he wants to give at-risk youth programming opportunities that will help them stay on top of their studies while also offering them the resources that will allow them to immerse themselves in their creative passions, such as music and fashion. Moreover, he wants to enable them to see what exists outside their neighborhoods by taking them on field trips to places they might otherwise never go.
"We Got Next LA wouldn't be where it is today without the LMU Business Incubator," Carlton said. "I knew going into my senior year that it was a class I had to be a part of. I knew it would allow me to tap into the best of the best in the Entrepreneurship program, and what an opportunity it was! Being surrounded by fellow Founders/CEOs weekly and hearing/seeing what they were doing to jumpstart their businesses was inspiring. Additionally, being mentored by the likes of Professor Jason D'Mello and Professor David Choi was priceless!"
Drawn to LMU for its top-ranked LMU College of Business Administration, Carlton says a particular highlight of his LMU experience outside of the entrepreneurship realm was being able to take classes across a range of disciplines thanks to LMU's liberal arts makeup, including foreign language classes in French.
"Outside my business courses, my favorites classes were French 1 and 2 with Professor Laura Huffman," Carlton said. "They were amazing courses. We got to do fun things like listen to French music, create skits, and also presentations, all in French. I loved taking a break from my business courses and immersing myself in a new culture and language for an hour and a half a day. I learned a lot and hope to be fluent one day."
In addition to his participation in the LMU Business Incubator, Carlton was also actively involved on the campus scene, including being a member of the LMU Men's Club Volleyball team, LMU Bali Club, the LMU African Students Association, the Black Student Union, and Brothers of Consciousness.
As for what advice Carlton has for incoming LMU Lions?
"Enjoy the journey — four years go by in the blink of an eye," Carlton said. "Immerse yourself in the campus community and get to know your professors; they're all pretty cool people. Lastly, stop worrying about the result and enjoy the ride. Find a career that makes you happy, not others. You'll be the one clocking in and out every day. I know it's the cliché thing to say but go find something that makes you want to get out of bed every day because if you do, it'll never feel like work."