Seizing Opportunity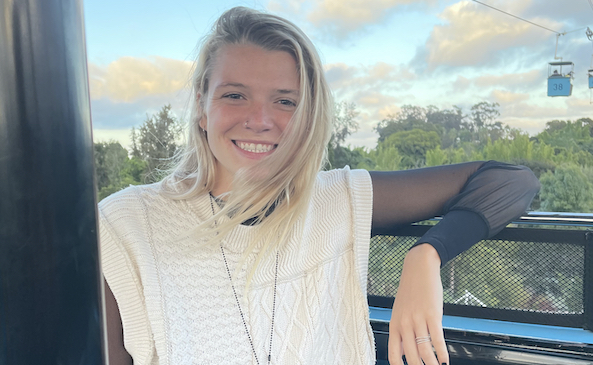 Olivia "Dell" Bledsoe, a psychology and marketing analytics double major, recently secured a position at Ernst & Young (EY) as part of their People Advisory Services staff. In her role, Olivia will be tasked with consulting for organizational change management, helping to build a better working world for the employees of EY's clients.
"I could not have chosen a more perfect school," Olivia, who is originally from North Carolina, said. "LMU has given me every tool and resource possible, and that paired with my drive has lifted me up and given me the confidence to take my next steps in my professional career."
Drawn to LMU for its Jesuit mission and top-ranked LMU College of Business Administration and LMU Bellarmine College of Liberal Arts, Olivia says that a particular highlight of her LMU experience has been the opportunities for experiential learning provided to her through undergraduate research with LMU faculty mentors.
"The research opportunities at LMU are immense, and I'm very thankful for them," Olivia said. "They've enabled me to take that extra step and cement what I've learned in the classroom through hands-on practice and inquiry."
For instance, as a Rains Undergraduate Research Scholar, Olivia helped faculty members from the school of business, Dr. Ellen Ensher (Business Management) and Dr. Jason D'Mello (Entrepreneurship), develop a publishable research paper on entrepreneurial grit and resilience.
"I came to discover that entrepreneurs see opportunity at every turn," Olivia said. "They can easily adapt to change and new environments because they look for that opportunity in everything. If we as a society could adapt the entrepreneurial mindset, we could adapt to change more easily. It's all about seeing opportunity with the help of self-care, a routine, recognizing when to take a day off, etc."
She also collaborated with the LMU psychology department's Dr. Alexandra Sturm, researching the mental health and well-being of LMU students. The pair developed a longitudinal survey to examine how students' mental health changed throughout the pandemic, collecting over 400 responses. This research study is ongoing.
Currently, Olivia is researching the relationship between smartphone screen time, mental health and well-being, and academic performance amongst students for LMU's psychology honors program via a study she is calling "Smartscreen or Smokescreen." This semester, she is collecting data via a fifteen-minute online survey that uses empirically tested measurements, executive functioning, and academic performance with participant consent. She plans to write a manuscript on her findings and present them at this year's Undergraduate Research Symposium (URS).
"I love the research process because it unlocks my creativity," Olivia said. "It allows me to problem solve through data analysis and tell a story with the help of data."
In addition to Olivia's research endeavors, she also found time to intern at the National Resource Group, a leading market research company for the entertainment industry, and as a market research intern at Panasonic North America. On the campus front, she is a Wellness Educator for LMU's Student Psychological Services and is a member of the professional business fraternity, Alpha Kappa Psi.
As for what advice Olivia has for incoming LMU Lions?
"Embrace failure because you learn when you fail," she said. "Take those challenging classes and push yourself outside your comfort zone; focus on building relationships with the people around you."