Drawn to Excellence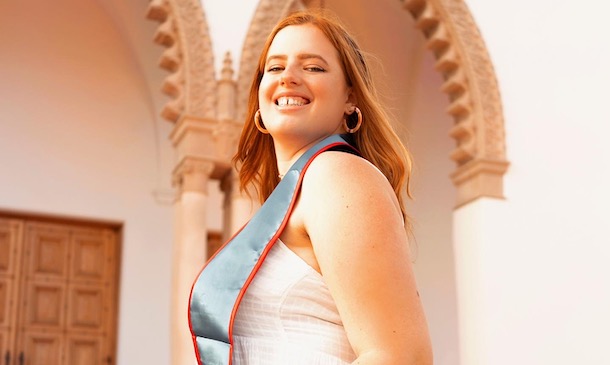 Marcella Maggio utilized the tools and resources afforded her through the top-ranked LMU School of Film and Television to make her creative vision a reality. Recognized as LMU's 2022 Program Scholar for Animation, the Palm Springs native is finishing her senior thesis, a four-minute animated short film called "Children of August," set for release on YouTube on August 1st.
"My LMU experience helped me develop both artistically and professionally," Marcella, who was also a screenwriting minor, said. "I was not only able to network and collaborate with like-minded creatives but begin to put the building blocks into place for a career in the animation industry."
Marcella describes the hand-drawn short as a "hippie action comedy" set in 1967 and tells the story of a devout but naïve disciple in a cult who must help her leader escape their commune as the police close in on them. She says she originally developed the piece as a full-length feature screenplay in one of her screenwriting courses and then took a four-minute scene from the script to turn into her thesis. It is one of two short films that she was able to direct as an undergraduate student, allowing her to collaborate with fellow LMU students across a range of disciplines, including not just animation but recording arts, film production, and theatre arts, among others.
She added that her proudest accomplishment was raising money through GoFundMe to pay all of the students who contributed to "Children of August's" development.
"I wanted to make sure that everyone who worked on my thesis film got compensated for their time and effort," Marcella said. "I was proud to be able to give many their first paid creative experience. Making sure that people who work in the creative fields are adequately compensated is very important to me."
Drawn to LMU for its top-ranked animation program and Jesuit identity, Marcella says that a particular highlight of her LMU experience was taking an SFTV course called "Studio Series Development," which explores series development best practices and teaches students the fundamentals of pitching a television series.
"It was a wonderful course that really helped me see what animation development looks like in the real world," Marcella said. "Moreover, I came away from the experience with a mentor, the class's professor, Sydney Bright."
In addition to her coursework and creative pursuits, Marcella was also actively involved in several student clubs and organizations on campus, including the service organization Sursum Corda through the Pam Rector Center for Service and Action, Delta Kappa Alpha, a cinematic arts fraternity, and LMU Animation Club. She also worked as a graphic designer for two years at Mane Entertainment, a student-led entertainment company at LMU.
As for what advice she has for incoming LMU Lions?
"Take this time to find out what you're passionate about," Marcella said. "Then take that passion and collaborate with your peers on projects that make a difference in the LMU community. Create something that will be long-lasting."
To learn more about "Children of August" and all of Marcella's creative endeavors, check out her website HERE.