Bound for Success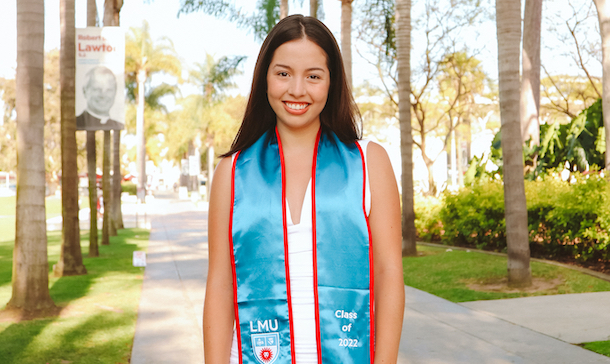 Nicole Hernandez —the recipient of LMU's prestigious 2022 Marian Award for excellence in service, leadership, and academic achievement — is taking a gap year. But it will not look like most. The Alhambra, California native recently began working as a Judicial Assistant Trainee for the Los Angeles County Superior Court, where she hopes to gain plenty of hands-on experience as a liaison between judges, attorneys, and other key players in the courtroom before applying to law school.
"The range of classes I took through LMU's political science department gave me a great understanding of how the court system works," Nicole, who earned a baccalaureate degree in political science, said. "I'm excited to put everything I've learned into practice."
Drawn to LMU for its small class sizes and the top-ranked LMU Bellarmine College of Liberal Arts, Nicole says that one political science class that made a bold impression on her was the "Politics of Immigration." In this course, students examine how governmental institutions, political actors, and socio-political processes have shaped and responded to immigration to the United States from the beginning of the Republic, with an emphasis on the post-1965 period.
"As a Mexican-American and first-generation college student, this class opened my eyes to how inequitable life is for the undocumented community," Nicole said. "It motivated me to want to make the opportunities at LMU, in particular internships, more accessible to our undocumented students."
Nicole and five other students co-founded Boundless LMU, a student-run program at LMU that provides paid fellowships, programming, and career development services to meet the needs of undocumented and "DACAmented" students.
"It's my proudest accomplishment from my time here," Nicole said. "And proof that LMU is willing to go that extra mile to provide a platform to lift up and support its students, no matter one's background."
Outside of her political science coursework and a minor in environmental studies, Nicole was actively involved in LMU's First To Go, a program through the Academic Resource Center that provides first-generation college students with valuable resources and opportunities for academic, professional, and personal growth. Additionally, she was a member of Espérer, one of the ten service organizations at LMU that make up the Service Organization Community (SOC) via the Pam Rector Center for Service and Action.
As for what advice Nicole has for incoming LMU Lions?
"LMU has so much to offer its students, don't limit yourself," she said. "You'll find communities on the bluff that lift you up and encourage you to push yourself — be open to it. I feel much more confident in myself and my place in the world than I felt when I started at LMU."