Engineering Sucess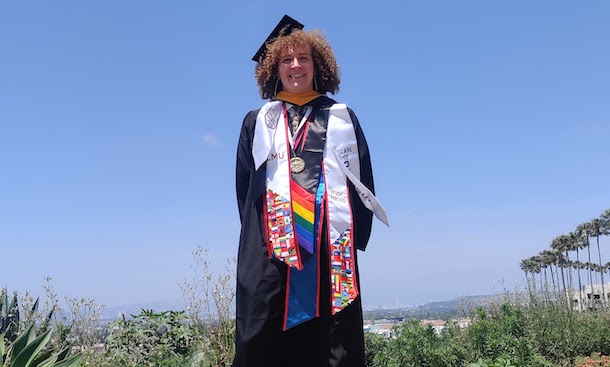 By summer's end, Ian Green is plugging into a career as a software engineer at the John Hopkins University Applied Physics Lab in Laurel, Maryland. Ian will work on simulating and evaluating naval electronic warfare systems in his role.
"LMU provided me with the tools and access to the resources to succeed on every level," Ian, who earned a dual degree in electrical engineering and computer science, said. "I especially appreciated LMU's commitment to educating the whole person."
Recognized as LMU's 2022 Program Scholar for Electrical Engineering, Ian says that he found great value in the interdisciplinary nature of a liberal arts education. It allowed him to take courses and have experiences outside of engineering that proved beneficial to his growth as a student, undergraduate researcher, and pre-professional.
"All of the experiences I had at LMU helped color the world for me in a different way," Ian said. "I was on LMU's debate team, which helped sharpen my communication skills, and the philosophy courses I took gave me the ability to dive deeper into the ethical implications of what I'll be doing in my career on the day-to-day."
Originally drawn to LMU for its top-ranked LMU Frank R. Seaver College of Science and Engineering, campus beauty, and smaller class sizes, Ian says that a particular highlight of his LMU experience was being able to take part in undergraduate research. Beginning his junior year, Ian collaborated with LMU professor and faculty mentor Dr. John Dionisio on GRNsight, an open-source web application for visualizing models of small- to medium-scale gene regulatory networks.
"Again, I appreciated the resources available to undergraduate students at LMU," Ian said. "I was able to join a research lab as an undergraduate student, a rarity at larger institutions, and create personal connections with my fellow students and faculty mentors."
In addition to being a member of LMU's University Honors Program, Ian was also actively involved in LMU's campus scene. He was a member of the Sursum Corda service organization via the Pam Rector Center for Service and Action and participated in the LMU CubeSat team, whose goal is to launch a small operational satellite into space by 2023.
As for what advice Ian has for incoming LMU Lions?
"Academics are important, but make time to really experience all college has to offer," he said. "LMU offers its students so many student life opportunities. Find something you're passionate about outside of the classroom."