Banking on Success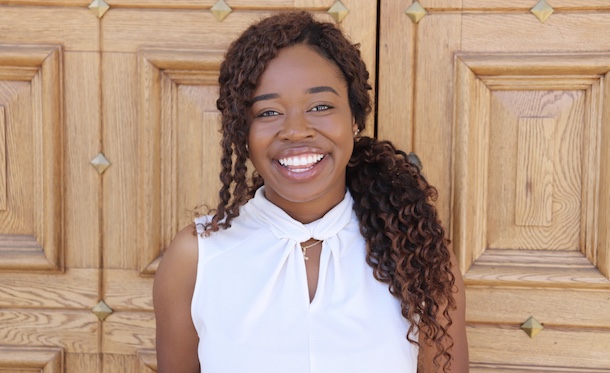 Amber Webb's experience at Loyola Marymount University was anything but by the numbers. Earning a Baccalaureate Degree in Finance from the top-ranked LMU College of Business Administration, the Chino Hills native recently accepted a Credit Analyst position in Entertainment Banking at City National Bank. In her new role, Amber is tasked with providing financial analytics for people and businesses within the entertainment industry.
"As a community with supportive students and nurturing professors, LMU helped me grow as an individual and young professional," Amber, who also minored in accounting, said. "I feel like I graduated from college with the support system and necessary resources to accomplish anything I set my mind to."
Amber shared that she made her mark at City National through an inspiring summer internship in 2019. She learned of the opportunity while a student in Professor David Offenberg's Entertainment Finance course — the only one of its kind offered to undergraduate finance students in Los Angeles.
Offenberg's course, which launched in 2014, is results-oriented with an eye toward industry networking, helping both students and entertainment executives identify qualified applicants for entry-level positions. Many students from his class land jobs or internships in any given semester – most recently at industry leaders such as Marvel Studios and Lionsgate Entertainment.
"A lot of great knowledge can be gained from working at a bank," Amber said. "Down the line, I hope to take that knowledge and share it with others through financial literacy programs and non-profit work."
Drawn initially to study at LMU for its Jesuit values and Los Angeles location, Amber found several campus resources and support services key to her success as a student, including LMU Career and Professional Development (CPD) and The Learning Community (TLC), for which have a special place in her heart.
"The way the TLC community reaches out to first-year black students and makes sure they feel integrated and connected at LMU made all the difference in the world for me," Amber said. "I definitely wouldn't be where I am today without their love and support, and my involvement in that group was one of my most transformational experiences at LMU."
Following her first-year experience as a member of TLC, Amber was eager to pay it forward, working for the program as a Student Coordinator and Resident Advisor.
"Having the opportunity to meet and connect with the incoming Black students was very important to me," Amber said. "I wanted to make sure they got the same amazing guidance I did when I first started the program."
As for what advice she has for future LMU Lions?
"Please don't take the interactions you have with people at LMU or the opportunities presented to you lightly," Amber said. "I'm a firm believer in that everything happens for a reason and finding ways to nurture the relationships with the people you connect with will have a significant impact on your future and path to success."