Transfer Success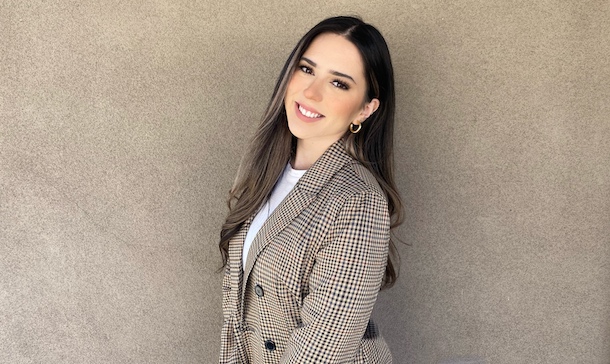 Anabelle Reynoso, Class of 2020, recently made the leap from intern to full-time Account Coordinator at Fingerprint Communications, a Los Angeles based public relations agency. In her role, the Communication Studies grad plugs into her creative outlet daily, managing and creating content for the agency's social media accounts and is also tasked with client outreach, gathering press, and developing brand marketing strategy.
"One thing that I love about LMU is its determination to get students on the path to career success right from the outset," Anabelle, who transferred to LMU during her junior year, said. "My LMU experience opened the doors to so many opportunities, inspiring me to work harder, build valuable relationships with my peers and professors, and ultimately become a better version of myself."
She says that LMU Career and Professional Development (CPD) played a crucial role in her success as a student and aspiring young professional. She was able to gain valuable insight into her field via the guidance of a Career Coach who also helped perfect her resume and cover letter.
Since its launch in 2015, CPD has quickly become the bluff's one-stop-shop for professional resources, guidance, and experiences that help students reach successful outcomes suited to their strengths. Ninety-seven percent of LMU's graduating class of 2019 are either employed, in graduate school, or taking part in post-graduate service within six months of graduation.
A particular highlight of Anabelle's collaboration with CPD was venturing on a Career Trek to New York City. The Career Treks program brings students into the high-profile workplaces of alumni and friends, allowing them to explore various career paths and network with potential employers.
"My Career Trek to New York City truly impacted my time and experience at LMU," Anabelle said. "I not only got a sense of different career options in New York, but I made so many new connections and friends. This trip impacted my life in so many ways, and I am forever thankful for the opportunity to experience it through LMU."
Drawn to the bluff for its strong sense of community, Anabelle says her LMU experience began long before transferring from Santa Monica College to its top-ranked LMU College of Communication & Fine Arts.
"Being from Westchester, I practically grew up around LMU, and it was never far from my mind," Anabelle said. "Whether it was the welcoming Loyola Marymount University sign at the campus entrance or seeing happy students in their college gear around the neighborhood, it became my dream school. And thankfully, that dream became a reality."
As for what advice she has for future LMU Lions?
"Utilize all of the resources LMU has to offer you," Anabelle said. "LMU makes an effort to express how much they want to see students succeed and get jobs in their dream career fields."