Design for Success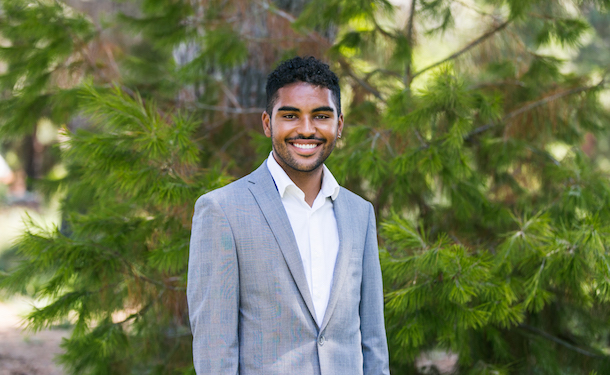 Arturo Jacobo, Class of 2020, has designs to create more equity for the underrepresented -- one city at a time. The San Diego native plans to pursue a Master's degree in Urban and Regional Planning at the University of California, Los Angeles, come fall, with the ultimate goal of one day working at the intersection of transportation planning and policy, urban design, and the environment.
The proud son of a civil engineer, Arturo says that he has always had a deep interest in cities and the intricacies behind their design and sociopolitical gears -- a fascination his time on the bluff further reinforced via his coursework in the LMU Bellarmine College of Liberal Arts.
"My LMU experience and the activities I engaged myself in provided me with real direction," Arturo, who earned a baccalaureate degree in Urban Studies, said. "Through the relationships I formed with professors, taking part in service pursuits, and bonding with my peers, I developed a network of people who not only supported me, but wanted me to succeed."
He added that classes in his major, such as "Sustainable Cities" and "Metropolitan Los Angeles," provided him a foundational understanding of urban planning and insight into present-day inequities, which he then built upon via an internship with the California Department of Transportation – San Diego.
"My internship exposed me to realities and complexities of transportation planning in Southern California," Arturo said. "Moreover, this experience was extremely helpful in developing my understanding of the industry I intend to enter, as well as providing me with the opportunity to expand my professional network."
Drawn to LMU as a transfer student after spending a year at Fordham University in New York, Arturo says that he was impressed by Loyola Marymount University's Jesuit mission, its size, location -- and the added benefit of his sister once an LMU Lion.
"I wanted to attend a school that not only had an Urban Studies program," Arturo said, "but one that also prioritized a commitment to social justice, equity, and inclusion -- and I found that on the bluff."
In addition to his academic pursuits, Arturo was actively involved on LMU's student life scene, participating in Sursum Corda service organization, and as a member of Resilience at LMU, a club that advocates for immigrant rights and seeks to create a supportive network for undocumented students and campus allies.
As for what advice he has for future LMU Lions?
"Give yourself the time and space to join student clubs and organizations that speak to your interests and passions," Arturo said. "And perhaps most importantly, develop relationships with your professors and take advantage of the university's resources – both are invaluable."