Feeding Change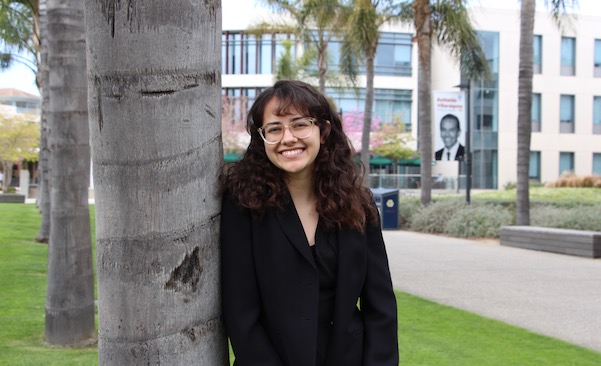 Recipient of LMU's 2019 Marian Award for excellence in leadership, service, and academia, Brooke Duplantier channeled her passion for food justice into several campus pursuits, most notably helping develop and run the LMU Food Pantry alongside the Center for Service and Action. The Pantry opened its doors in 2017 and offers free food to community members experiencing hunger or food insecurity.
"My LMU experience instilled a desire within me to use my education and privileges out in the greater world," Brooke, who double-majored in Political Science and English, said. "My Jesuit education encouraged me to be critical of the systems around us and taught me what it means to be committed to social justice."
Brooke says her passion for the field developed after experiencing food insecurity first-hand following two hurricanes' devastating effects blindsiding her home state.
"Those experiences really informed this idea that it doesn't take much for a family, regardless of class, to fall into food insecurity," Brooke said, describing her own brood as middle-class. "Food is so fundamental to our lives, yet there are so many discrepancies in the quality and access to food that many people have – better systems need to be in place."
Drawn to LMU for its commitment to service and social justice, Brooke says she was looking for a college experience that would give her the tools to become a well-rounded individual. Her time on the bluff didn't disappoint.
"LMU became one of the most fulfilling experiences I could have asked for," Brooke said. "I don't think that I would have moved across the country for grad school if I hadn't been made to feel that I could independently make a difference by my professors and friends."
Brooke also made her mark as President of the LMU chapter of Oxfam, a non-profit dedicated to issues of poverty and hunger, and through her participation in Sursum Corda service organization, for which she was Vice President of Social Justice.
A particular highlight of Brooke's college experience was venturing to Paris on an Honors Summer Research grant to explore cuisine as an avenue for social change at a refugee food festival.
"I concluded that success relies on public knowledge and acceptance of an outsider's cuisine," Brooke said. "But food businesses and food work should be one of the main ways to integrate outsiders into Parisian society while respecting their own cultures – but there needs to be more accessible pathways for outsiders to establish their own restaurants in Paris."
But she says her mind wasn't always on food. In fact, one of her favorite courses was her Honors Theology course taught by Professor Douglas Christie via the top ranked LMU Bellarmine College of Liberal Arts.
"We would just read people's life stories, their autobiographies," Brooke said. "I really appreciated how we were giving time and respect to these people's identities, just sitting with a person's story and reacting to it. It inspired me to seek out the voices of people I have never heard before."
Brooke is currently pursuing a master's degree in Food Studies at Chatham University in Pittsburgh, where she is taking a comprehensive look at the system from all angles, including environmental and sustainability concerns, cultural and historical traditions, food access, political concerns, and food businesses and entrepreneurship, among others.
She hopes to use the knowledge she gains from her graduate studies and take part in a new chain of non-profit, community-supported restaurants called "Pay What You Eat," but admits that life's main course is still undecided.
As for what advice Brooke has for future LMU students?
"Put your best effort into the things that give you the skills and the qualities of the person you want to be when you leave LMU," she said. "Make yourself proud while giving back to your community."