Switching Gears Towards Success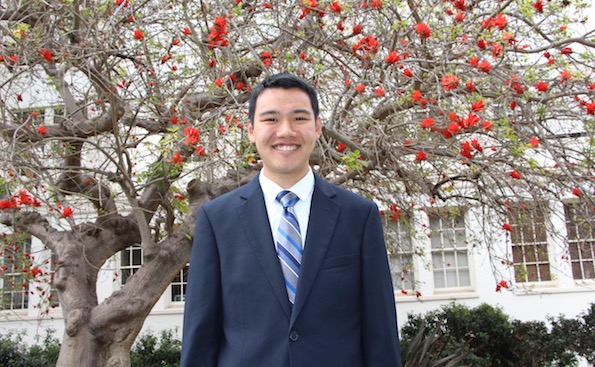 Class of 2018 graduate Chasen Himeda engineered a smooth transition from student life to young professional when he marched from the bluff last May amidst a flurry of honors. Hailing from Kaneohe, Hawaii, Chasen quickly stepped into a Systems Engineer role at nearby Raytheon following an inspiring summer internship with the industrial defense contractor.
Named the 2018 Program Scholar of the Year for Engineering Physics, Chasen attributes his budding success to the rigorous engineering coursework that prepared him not only to excel, but stand out from the pack.
"LMU is one of the few universities that offers Engineering Physics as a major,"Chasen said. "It afforded me the unique opportunity of understanding the physics behind engineering – a very important step to fully understanding the discipline."
The Frank R. Seaver College of Science & Engineering currently ranks No. 19 among Best Undergraduate Programs, according to U.S. News & World Report.
Aside from engineering, Chasen says that one of his favorite courses tried to decipher the world at the intersection of theology and science.
"It really opened my eyes," Chasen said. "The class talked about how theology can connect to science and vice versa, and tried to reconcile their differences."
Originally drawn to the bluff for its Jesuit values and warm campus atmosphere, Chasen says he felt transformed the most by LMU's tight-knit community of students.
"Aside from providing me with a world-class education," he said, "I felt LMU empowered me to step outside my comfort zone and take on leadership positions, allowing me to make my mark on campus in a very unique way."
In addition to being a member of the University Honors program, Chasen was active in a number of campus pursuits, including Na Kolea, LMU's Hawaii club, for which he was Activities Chair and as a teaching assistant for the physics department.
Looking to the future, he hopes to take the knowledge he gained on the bluff and apply it in the real world through projects for change, a common trait among LMU students. Every year students devote more than 200,000 hours to community service efforts, in addition to dozens of trips around the globe dedicated to cultural immersion and Jesuit fellowship.
As for what advice Chasen has for future Lions?
"My LMU experience showed me that anyone can make their mark on the bluff," he said. "Find a way to make LMU your own – there are opportunities at every turn."