Balancing Act for Success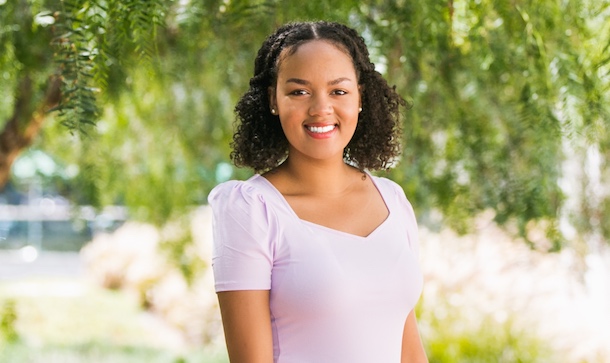 Start spreading the news, she's leading the way …
Ciara Freeman '20 is blazing a post-grad trail to New York University's College of Global Public Health, where she'll pursue a master's degree in the subject as a Gates Millennium Scholar. A native of Virginia Beach, Virginia, Ciara is eager to take a bite out of both the Big Apple and global health disparity, aiming to become a global health consultant involved in the research behind disease prevention.
"I'm leaving LMU with a strong sense of self and the ability to speak my skills to opportunity," said Freeman, who majored in communication studies. "Mentorship is key when climbing the ranks, be it academic or professional—I found both through my involvement with LMU Career and Professional Development (CPD)."
In particular, she said that CPD's services benefited her greatly when applying to graduate school through the guidance of a career coach with expertise in her desired field.
"One's statement of purpose is particularly important when it comes to grad school admissions," said Freeman, who was a CPD peer advisor for two years. "My CPD career coach helped refine mine, including restructuring sentences to best reflect the intention behind my message."
Since launching in 2015, CPD has become LMU's go-to resource for professional guidance and experiences that help students reach successful outcomes suited to their strengths. In fact, 97 percent of LMU graduates from the class of 2019 are currently employed or are in graduate school.
Freeman says she was originally drawn to LMU for its stellar reputation, prime Los Angeles location, and Jesuit mission, but now that she's graduated, she believes that the university's best kept secret is its devoted faculty.
"My student experience has been filled with amazing professors passionate about their work and willing to go the extra mile for myself and my peers," she said, naming a number of LMU professors who've made an impact on her college career, including professors Kristo Gobin, Vanessa Diaz and Shaun Anderson, among others.
Outside of her rigorous academic coursework, Freeman served as an LMU student ambassador, a student blogger for LMU Undergraduate Admission, and a member of Marians service organization, the Christian Life Community (CLC), and The Learning Community (TLC).
As for what advice she has for future LMU Lions: "College is a balancing act," she said. "Find a comfortable equilibrium between school, student life, and taking steps to prepare for a successful future beyond the bluff. And finally, don't discredit yourself – you can do anything!"