Research For Change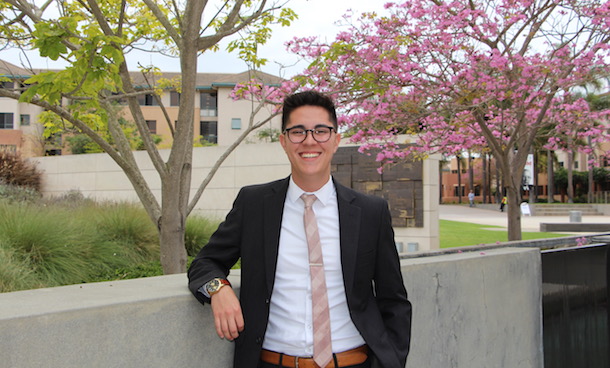 Class of 2019 graduate Dillon Rinauro heads to the University of Cambridge this fall to pursue his Ph.D. in Biological Chemistry as a Gates Cambridge Scholar. Hailing from Bellingham, Washington, Dillon's research will focus primarily on the protein structures linked to Alzheimer's and Type 2 diabetes, with plans to explore their impact on global and marginalized communities.
Named LMU's 2019 Program Scholar for Biochemistry, Dillon says his passion for research, in particular Alzheimer's research, stems from time spent working and volunteering in retirement homes throughout high school and college.
"To be able to give back to a community that has given me so much is reward in of itself," Dillon said, who hopes his research can create increased access to treatment and affordability. "Social justice has become a very important aspect of my life, and my time at LMU really helped me realize how I can use my talents and skills to dismantle systems of oppression."
Originally drawn to the bluff for its Jesuit roots and top-ranked LMU Frank R. Seaver College of Science Engineering, Dillon says he quickly discovered that LMU's best resources are its dedicated professors.
"My one-on-one research with Biochemistry's Dr. David Moffet had a huge impact on my college career," Dillion said. "Not only did the experience help me realize the kind of work I wanted to be doing in the field, but I came to view him as a great friend and mentor who championed me along the way."
LMU currently enjoys a student to faculty ratio of 10 to 1 and average class sizes of just 19.
Outside of his rigorous coursework, Dillon was an LMU Lion committed to service, receiving The Arete Award for his off-campus volunteer efforts through the Center for Service and Action, which included leading an Alternative Break trip to NYC to explore issues affecting the LGBTQ+ community.
Dillon added that a highlight of his service pursuits on the bluff were the strong bonds he formed through his involvement in the service organization, Ignatians.
"I don't think I'd be in the position I am today without this group of people," Dillon said. "So I cannot thank them enough. I plan to carry my Ignatian heritage into my future career and aspirations."
In addition to receiving a Presidential Citation, Dillon was a member of the LMU Chemistry Society, LMU's student government and participated in the Summer Undergraduate Research Program.
As for what advice Dillon has for future Lions?
"Pour yourself into the things that you are passionate about," he said. "LMU has so many resources, outlets and communities to help you find your passion, you just have to do your research. And lastly, take time to integrate the LMU mission into your life and beyond."