A Growing Roar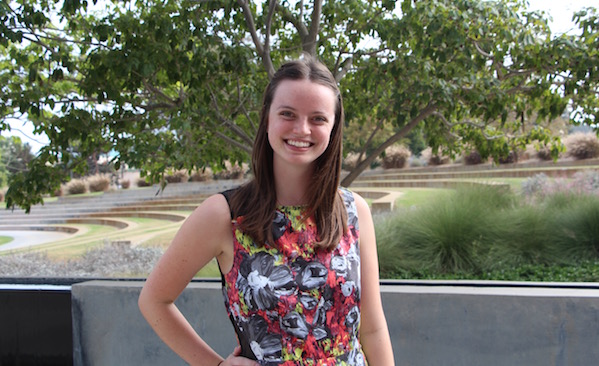 First-year biology major Emma Murphy has only been at LMU for a little over a month but already embodies the Lion spirit in more ways than one. The St. Louis, MO. native will address prospective students and their families at this Sunday's Open House with a speech that will chronicle a day in her life on the bluff.
"I hope prospective students will truly understand the sense of fulfillment and joy all LMU students have," Emma said. "I've quickly discovered that LMU is a very service-oriented campus, starting with the kindness and generosity of its students."
Drawn to LMU for its top-ranked College of Science and Engineering and tight-knit community of students and faculty, Emma says she is eager to turn her passion for science into real-world possibilities through the university's commitment to undergraduate research and professional development.
"I think science is logical magic," Emma said. "It's so amazing how our world has been changed thanks to scientific discoveries and I want to be a part of it. I already feel like LMU is equipping me with the tools and connections to make that dream a reality."
At present, Emma says her favorite course and perhaps most challenging is her Honors First-Year Seminar, "On the Technological Sublime," which looks at a variety of literary, visual, musical, philosophical and cinematic texts that formulate philosophical, aesthetic, theoretical and/or theological arguments about moments of excellence and grandeur.
"I love it because it challenges me in a very unique way outside my comfort zone," Emma said. "We discuss sublime moments that leave us in both terror and awe, and then get the chance to explore further with weekly essays."
Eager to become an active member of campus community, Emma is already running for the Honors Program's Executive Board, is a Student Ambassador with the Undergraduate Admission office and plans to join Ski Club, Jugglers Unite and become a campus Tour Guide. LMU currently offers more than 170 student clubs and organizations for its Lions to pursue, including a plethora of service opportunities in the surrounding community.
Looking to the future, Emma hopes to one day pursue her Ph.D. in Biopsychology or Neuropsychology, but for the present is content to start making plans to spend a summer studying in Paris through LMU's popular Study Abroad program, in which 36 percent of students participate.
As for what advice Emma has for future Lions?
"Be brave. Everyone at LMU is here to support you, so connect with as many people as you can," she said. "The genuine love, care and authenticity all LMU students have is unlike anything I've ever experienced. I thank God everyday that I came here."