Path to Success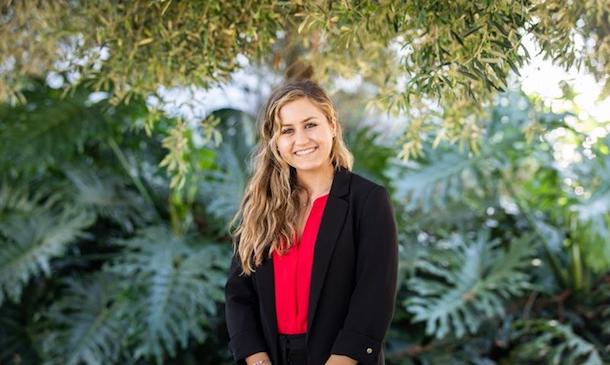 Erin Purnell, Class of 2020, is turning the page on her LMU experience and embarking on an exciting new chapter as a Communications Specialist at Mission Hospital in Mission Viejo, California. Earning a baccalaureate degree in Marketing from top ranked LMU College of Business Administration, Erin's writing savvy and passion for words made her a standout on its A-LIST (Applied Learning in Societal Transformation) track — one of four content-specific and career-focused "Pathways" offered to LMU marketing majors.
The A-LIST Pathway, led by LMU Marketing Professors Mitchell Hamilton and Julian Saint Clare, aims to produce future business leaders with the understanding that profit-maximization and societal well-being are not mutually exclusive. Other marketing Pathways include, "Marketing Analytics" (MA Pathway), "Creating Customer and Company Value" (3C's Pathway), and the immersive "M-School" (M-School Pathway)
"LMU, a Jesuit university, emphasizes education of the whole person, and Mission Hospital, a Catholic hospital, emphasizes healing of the whole person — body, mind, and spirit," Erin said. "I find a lot of beautiful parallels between my time at LMU and where I am working now and can feel my Jesuit education helping me every single day on the job."
Originally from Orange County, Erin was drawn to the bluff for its passionate community of students and faculty, Erin says that she took full advantage of the many resources and services available to LMU students – most notably, LMU Career and Professional Development (CPD).
"Every single student should drop into CPD for a virtual peer review session or to make a one-on-one appointment with a Career Coach," Erin said. "Their helpful advice and services open the door to wonderful opportunities for networking and pre-professional development."
Academics aside, Erin was also active in a range of student clubs and organizations, serving as President of the LMU Marketing Society, as a Peer Adviser for CPD, and as Marketing Chair for LMU's Residence Hall Association, among other interests. Additionally, she was a Social Media Intern at MOB Media, Inc.
As for what advice she has for future LMU students?
"I think the biggest thing I've learned post-grad is that things don't always go according to plan, but sometimes that can be the biggest blessing," Erin said. "Adapting is key."