No Minor Success or (All the Right Moves)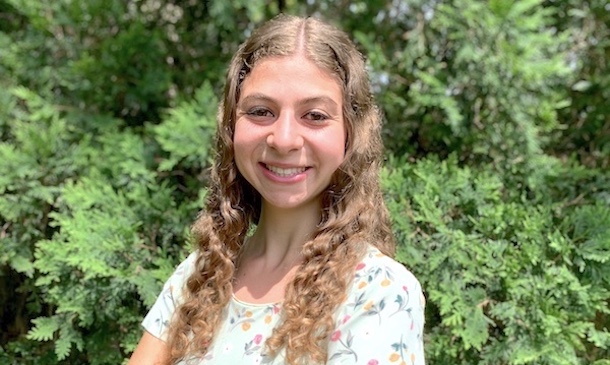 Gabrielle Engerman's post-grad plans are anything but by the numbers. Named LMU's 2020 Program Scholar for Accounting, amidst a flurry of other academic accolades, Gabrielle is bypassing the typical route to professional success at a Big Four accounting firm, in favor of taking the road less traveled and embarking on her next chapter some 7,600 miles away in Israel.
"As a Jewish student at a Catholic university, I never expected to have so many opportunities to grow and lead," Gabrielle, a native of Chicago, said. "But LMU instilled a greater sense of self in me, a richer global perspective."
Originally drawn to LMU for its top ranked business school and prime L.A. location, Gabrielle says her inspiration for her move to Israel this August is due in part to her Jewish Studies minor.
"I loved being given the opportunity to explore one of my passions at an academic level," Gabrielle said. "For example, my Jewish History class connected with me on a very personal level, and I was able to discover so much about my own culture and heritage that I hadn't known before."
She added that another highlight of her academic experience was her ability to apply skills she acquired in the LMU classroom out in the real world via a series of successful internships -- in everything from internal audit at a Chicago bank to project management at an marketing firm in Tel Aviv, Israel.
"Everything about LMU was a welcome surprise," Gabrielle said. "I loved the smaller size and more individualized approach to learning in the classroom, which allowed for these amazing collaborative relationships to form between myself and many of my professors."
In addition to being an LMU student tour guide, Gabrielle was active in a number of campus pursuits, including LMU Jewish Student Life, El Espejo, a mentoring program through LMU's Center for Service and Action, and as a New Student Orientation Leader.
As for what advice she has for incoming LMU Lions?
"Don't be afraid to step outside of your comfort zone," Gabrielle said. "Coming to LMU was a big jump out of mine, but the more I pushed myself, the more I grew, and now I have the courage to move halfway across the world."