Notes for Success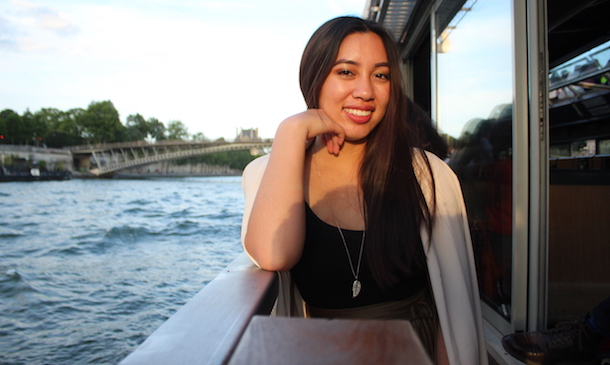 Gabrielle Poma, LMU's 2021 Program Scholar for Music, is ready for her encore. The California native plans to return to the bluff this fall to pursue a master's degree in Pastoral Theology. Earning a baccalaureate degree in music with a specialization in vocal performance through the top-ranked LMU College of Communication and Fine Arts, Gabrielle hopes to blend the beats of her musical background and LMU experience into a career as a minister one day.
"I deeply desired a music experience during my undergraduate career that went beyond just performance," Gabrielle, who also minored in Theology and Classics and Archaeology, said. "When I was singing in the choir at mass on campus or I would perform with my peers at various community engagements, I began to see music as something greater than just entertainment. It became a way for me to engage with my faith and the LMU community in a meaningful and transformative way."
Gabrielle says that it was through her participation in LMU Campus Ministry that she first began to see how music and faith serve similar purposes, both at play to stir people's hearts and minds and bring them together as a community. A great example, she says, is LMU's centennial hymn, "The Greater Glory of God," written by composer, theologian, and LMU alum Tony Alonso.
"It's always been dear to my heart and was my favorite song to sing at a large mass on campus," Gabrielle said. "Generations upon generations of LMU students have heard it sung over the years, and no matter when you attended, it connects us as a community."
Music aside, Gabrielle says that it was an LMU theology course she took that got her seriously thinking about pursuing a master's degree in theology. The class was "The Gospel of Mark," taught by the late Dr. David Sanchez. It examined the canonical gospel's historical, literary, and theological contexts concerning contemporary theological issues and methods.
"The class and Dr. Sanchez made a lasting impression on me," Gabrielle said. "I was learning from a young Latino professor, and to be able to explore the bible in a way that gave voice to people of color was incredibly impactful, because not only was I learning historical context that I wasn't aware of before, but it was coming from the perspective of someone who I could relate to."
Drawn to LMU for its Jesuit mission, dynamic music program, and welcoming student community, Gabrielle says she wanted to attend a university that made faith and its commitment to social justice intentional rather than performative.
"LMU's mission stays true to its word," Gabrielle said. "My own LMU experience and the opportunities I was able to pursue are proof of that fact."
She says that a particular highlight of her LMU experience was her involvement in the university's De Colores program, monthly faith-based service-immersion trips where students leave the comforts of campus behind to journey to Tijuana, Mexico in pursuit of cross-cultural connection, service, and self-reflection.
"De Colores had a huge impact on me," Gabrielle said. "Though we were in Tijuana helping to build houses, it wasn't so much about service as it was about community and accompaniment, this notion of accompanying communities rather than saving them. Ultimately, it was another LMU experience I had that solidified my desire to pursue theology."
In addition to her academic pursuits, Gabrielle put her vocal talents to good use as a member of the LMU Consort Singers, LMU Women's Chorus, and the music department's annual Sinatra Opera Workshop.
As for what advice she has for incoming LMU Lions?
"There were a lot of things, like study abroad or alternative break trips, that I put off because of time or cost, but those opportunities slipped away as a result of the pandemic," Gabrielle said. "LMU's programs are incredibly unique and special, and I wholeheartedly have to say, take advantage of every single opportunity that comes along."