Accounting for Success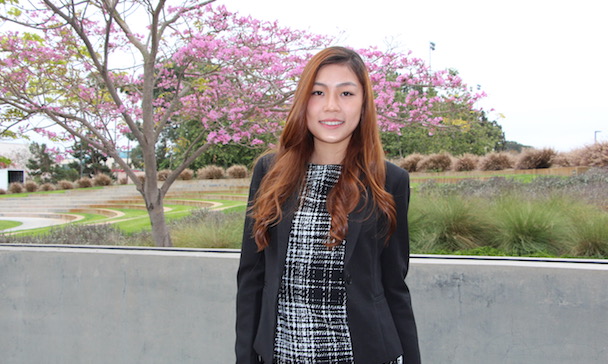 Class of 2019 Entrepreneurship and Accounting graduate Gia Ky (Giselle) Huynh is set to launch her professional career at Big Four audit firm Deloitte this fall while pursuing a Master of Accounting degree at the University of Southern California. Hailing from Vietnam, Giselle plans to tackle her new role as an accountant with the spirit of an entrepreneur, hoping to parlay skills and savvy gained on the job into a business of her own.
Named 2019's Program Scholar for Entrepreneurship and Accounting, Giselle says her path to professional success stretched from the classroom to the LMU Accounting Society, where she landed an interview with a Deloitte recruiter thanks to one of the group's many networking opportunities.
"LMU gave me the confidence and support system to step outside my comfort zone and pursue my goals to the fullest," Giselle said. "It really became like a second home to me, a family – I can't wait to return."
Originally drawn to the bluff for its top-ranked College of Business Administration and smaller size, Giselle says she was impressed by the collaborative relationships between students and professors she saw on her first visit to campus -- an impression that quickly became a reality when her Entrepreneurship professor helped her land an internship with a CPA firm.
"The bluff is a place where relationships are built," she said. "There's such a great diversity amongst the students, yet everyone is working towards the same goal."
Ranked in the top 5 percent in the nation for diversity (College Factual, 2019), LMU's commitment to global diversity is highlighted by its population, 10 percent of which are international students.
Giselle says her transition to the bluff as an international student felt fairly seamless thanks to the welcoming Lion community and efforts of the Office of International Students and Scholars (OISS), but never more so when she was experiencing a personal hardship.
"At one point my dad fell ill back in Vietnam," Giselle said, "and I was seriously considering giving everything up to go be with him. Luckily, I had the support and encouragement of my CBA Deans and professors during that difficult time; they were willing to help me in any way that they could. It was a comfort to know that even thousands of miles from home I had a support system here."
Outside of the classroom, Giselle was an active presence on campus, becoming Vice President of the Accounting Society and as a member of Beta Gamma Sigma, the international honor society for business students, among other pursuits.
As for what advice Giselle has for future Lions?
"Get involved as much as you can, as soon as possible," she said. "And try to get the most out of every experience you have, because whether small or big, somewhere along the way it will be helpful."