Taking the Lead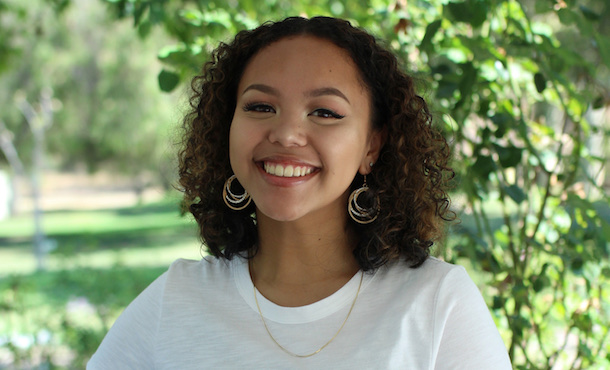 "The best way to understand a school is through its students," said rising junior Jordan Fernandez.
Jordan, a Communications Studies major with a passion for tap dancing, is taking full advantage of the many opportunities available to her on the bluff – no matter the major. This past November, the California native threw caution to the wind and auditioned for LMU Theatre Arts' spring musical, "In the Heights," ultimately nabbing a lead role.
"LMU has instilled a greater sense of confidence in my abilities, a resiliency and fearlessness," Jordan, an LMU student tour guide, said. "Before my time on the bluff, I was hesitant to speak up and go after the things I wanted out of fear."
Drawn to LMU during her own college search for its perfect size, diversity, and top-ranked LMU College of Communication and Fine Arts, Jordan says it was the welcoming, can-do attitude of her own student tour guide on a campus visit that helped her develop a picture of herself living and thriving as an LMU Lion.
"I love sharing my own stories with prospective students and their families on the campus tours that I give," Jordan said. "And it really is something to be able to be the first person who introduces them to the beauty of LMU's campus -- not to mention the view from the bluff.
On the academic front, Jordan says that her favorite LMU course thus far has been "Intercultural Communication" (CMST 2200) taught by Professor Judy Battaglia, a first-year course that explores the principles and theories related to cross-cultural encounters and how to improve communications between persons from different cultural backgrounds.
"It provided me with a great deal of insight into things going on in society that I wasn't aware of," Jordan said. "It was a memorable learning experience because we were actively learning through the act of class discussion, as opposed to just listening to a lecture."
In addition to her major concentration, Jordan exercises her lifelong passion with a minor in dance. She also serves as President of Isang Bansa (IB), LMU's premier Filipino and Filipino-American student organization, grooves to hip-hop as a member of LMU's Radix Dance Crew, and is an LMU Orientation Leader.
"I never thought I'd be able to make my mark at LMU, and really stand out – but I am. It's a place where you can achieve anything you set your mind to."