A Call to Action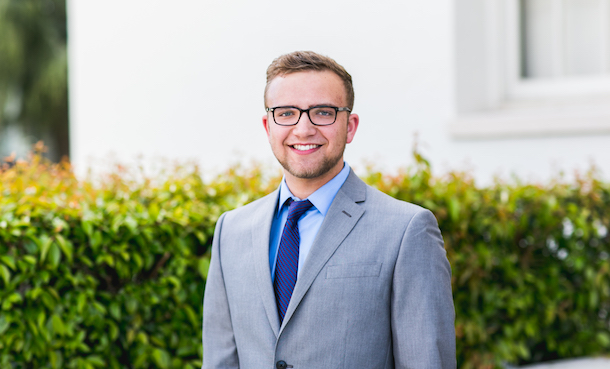 Recent graduate JT Ramsey is on the pulse of a career in medicine, beginning his studies at the University of Washington School of Medicine this fall. Earning a baccalaureate degree in biology from the top-ranked LMU Frank R. Seaver College of Science and Engineering, JT is eager to build upon the skills he acquired in the classroom and beyond as an LMU EMT. He aspires to become a medical director of an EMS system one day, where he hopes to work to enhance patient care.
"LMU gave me the confidence to put myself out there," JT, a native of Spokane, Washington, said. "Moreover, L.A. is full of opportunities, and you have to go for it. I would have never thought that I would eventually be the set medic for shows like 'Dancing with the Stars' or the 'Late Late Show,' but I went for it when the opportunity presented itself. LMU gave me that confidence in myself."
JT explains that he first became passionate about the emergency services field after his best friend from home was involved in a fatal car accident during finals week of his first semester at LMU.
"In that instance, I didn't understand what was going on or how to react," JT said. "To make sure I never felt like that again, I became an EMT at LMU the next summer."
The Loyola Marymount University Emergency Medical Services (EMS) are full-time students who are nationally certified EMTs. They have passed the California certification exam and practicums to become a part of the LMU EMS team.
JT was an LMU EMT for three years and describes the experience as one that demanded discipline and sacrifice; but ultimately, it empowered him to better process challenging situations and work through what he can and cannot control.
"LMU EMS is unlike any other campus club or organization," JT said. "There is nothing casual about it due to the time commitment and prerequisites involved, but I wouldn't trade the experience for anything. The values that LMU EMS instilled in me were a phenomenal incubator for self-development and a life commitment to service."
In addition to his academic coursework and involvement with LMU EMS, JT also did research in geometric morphology with Dr. Wendy Binder, an LMU Professor of Biology, for several years and worked in the Emergency Department at the Harbor-UCLA Medical Center.
JT added that a particular highlight of his LMU experience was being allowed to consult on an archaeological dig in Spain one summer through LMU's Classics and Archaeology department, in which he researched skeletons from the Bronze Age with a medical school from Valladolid.
"That trip taught me a lot about cultural exchange, intersectionality of academics, and how the diversity of backgrounds promotes an environment of curiosity and learning," JT, who lived in a rural town of eighty people, said. "Students from other countries and universities all brought such different and unique perspectives that the amount I learned was compounded both academically and personally. "
As for what advice he has for future LMU Lions?
"Don't feel pressured to speed through your college experience," JT said. "Learn to enjoy the process and not the goal. The joy of reaching a goal can last days or a week. But the process can be years long. Learn to enjoy the journey."