Sums Up Success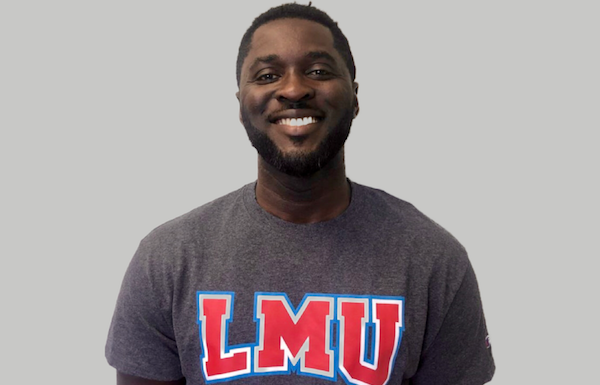 Class of 2020's Kalo Abban, a Veteran of the United States Air Force, recently launched his post-grad career as an Engineering Test Technician at nearby Northrup Grumman Space Division. Earning a baccalaureate degree in Mathematics from the top-ranked LMU Frank R. Seaver College of Science & Engineering, Kalo's passion for the discipline runs deep, with aspirations to one day work in data science or as an actuary.
"For me, mathematics is a vast and interesting subject," Kalo said. "I like how you can use it to figure things out, solve problems, build things. Whenever I have the chance, I'm reading a math book trying to continue to build upon my skills and expertise."
Kalo, who was born in West Africa and immigrated to the States in the late '90s, says that he joined the U.S. Air Force to one day afford a college education. From 2008 to 2012, he was stationed at Travis Air Force Base in Solano County, California. He served as an Integrated Flight Control Systems Technician and calls his experience "valuable, and well worth it."
Originally drawn to LMU for its campus beauty and commitment to academic excellence, Kalo says that the university's Yellow Ribbon GI Education Enhancement Program helped him find a financially feasible way to join the LMU Lion Pride.
"LMU was the perfect choice for me," Kalo said. "My experience not only helped me learn a lot about people and how to better relate to them but made me appreciate being surrounded by different kinds of people, ways of thinking, and what they can teach me about myself and the world."
Moreover, he added that LMU Veterans Programs was an invaluable resource, supporting his transition to college life and then providing individualized support services and programming that worked to nurture his success as a student, as well as connect him with other student veterans.
When not in the classroom, Kalo worked full-time at Honeywell Aerospace in Torrance, California as a Senior Lead Engineering Technician. He was also involved with LMU's Student Veterans Organization and played intramural sports.
As for what advice he has for future LMU student veterans?
"Just stick it out, get involved, and do the work," Kalo said. "We Veterans know what we have to do to be successful. It's just about getting in there and doing your best work possible."