Root(s) of Success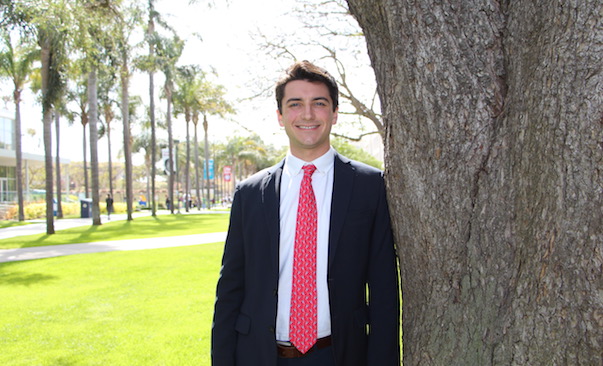 Luis Kay's ROAR will echo across the bluff long after he's made tracks as a successful entrepreneur. A native of Los Angeles, Luis is catching his professional stride as an apprentice to venture capitalist Lance Helfert, working out of his San Diego-based private equity firm for the next year and assisting him with everything from property research to managing his busy schedule.

"LMU gave me a true sense of self-confidence, strong leadership skills and a wide view of how our complex world works," Luis said, adding that his comprehensive coursework in the LMU College of Business Administration afforded him the opportunity to explore economics from every angle, including international trade, finance, macroeconomics and more.

Inspired to pursue an apprenticeship after taking an LMU entrepreneurship course taught by Kinkos founder Paul Orfalea, Luis says he came away from the unique academic experience with a fresh take on the field and ready to make lasting change through a venture of his own.

But Luis is no stranger to making a positive social impact. He is the recipient of LMU's 2019 Father Graham Alumni Award for Service and Leadership – one of the university's highest honors.

Drawn to LMU by roots, both Jesuit and familial, Luis says that nearly a dozen of his relatives have roared with Lion pride across the bluff at one time or another, beginning with his grandfather, who graduated from Loyola University in 1951 with a degree in Biology..

"My grandfather always spoke fondly of his time at Loyola and the opportunity they provided for him to pursue higher education," he said. "LMU is truly a unique place with a history of success, and my family is living proof."

He added that a particular highlight of his LMU experience were adventures abroad, including a summer spent in Rome studying the history of art and Christianity, another in Cork, Ireland soaking up Irish history and a stop in Romania to take part in an archeological dig.

"My global experiences definitely broadened my perspective and gave me a greater appreciation for history and the need to preserve it," Luis said, who also took part in Ignacio Companions trips to Cambodia and Ecuador.

LMU Campus Ministry's Ignacio Companions (IC) Trips provide students with the opportunity to explore faith and justice through the lens of a new cultural context, while also engaging with their host community.

Currently, thirty-six percent of Lions take their global imagination for a spin by choosing to participate in a Study Abroad program, to a variety of locales spanning the globe.

Outside of his coursework, Luis cornered opportunity in true Lion spirit, participating in the LMU Student Worker Program, Crimson Circle service organization, LMU Finance Society and Sigma Phi Epsilon fraternity, among other interests.
"A Jesuit education strikes a good balance between working hard and making a difference," Luis said. "But also enjoying the lives that we have to the fullest."

As for what advice the up and comer has for future Lions?

"Get involved early and in as much as possible – it's invaluable," Luis said. "Also realize that LMU is as much about the people as it is about a quality education. During my time on the bluff I developed genuine friendships that I am confident will last me a lifetime."