Professional Liftoff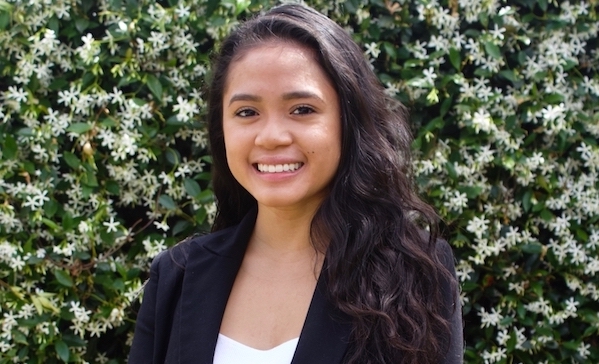 Class of 2020 finance graduate Mikko Eguia is rocketing from the bluff to the NASA Jet Propulsion Laboratory in nearby Pasadena, where she will launch her career as a Subcontracts Manager in the Acquisition Division. The native Chicagoan will be responsible for managing a portfolio of subcontracts that support lab projects and mission flights.
Mikko first made her mark at NASA JPL through participation in an internship the summer prior to her senior year, but university resources such as LMU Career and Professional Development, helped her bridge the gap from undergrad to employed.
"LMU has given me the tools to harness a potential inside of me I didn't even know existed," she said, adding that the outcome of her LMU experience has made her parents, both immigrants, incredibly proud. "I feel super blessed that they get to witness a product of their hard work and the sacrifices they have made over the years."
Drawn to the bluff for its nationally ranked LMU College of Business Administration, picturesque campus, and close proximity to family, Mikko quickly discovered that one of LMU's greatest asset are its dedicated professors.
"Professor Sona Gala, one of my clinical professors through the Business Law department, played a huge role in the individual I am today," Mikko said. "As a student in two of her classes and as her research assistant my senior year, I was witness to a strong and brilliant lawyer, mother, professor, and business-woman. Out of all my professors, she was the first to take an interest in my potential and helped me believe in myself."
She added that LMU Professor Jeff Theis' "Business Ethics and Social Responsibility in the Global Economy" course made a lasting impression on her:
"Professor Theis' course was by far one of my most impactful," Mikko said. "I came away with the knowledge that every company has a responsibility to integrate ethical and environmentally friendly practices through every step of their supply chain and by way of their end products."
Outside of her coursework, Mikko was active in a range of campus pursuits, including the LMU Student Worker Program, Sursum Corda service organization, Isang Bansa Filipino Cultural Club, and LMU student government, the Associated Students of Loyola Marymount University (ASLMU).
As for what advice she has for future LMU Lions?
"Don't turn down or overlook any opportunity," Mikko said. "Some of the opportunities I pursued, despite not always panning out, led to other doors opening and greater insight into how I could evolve as a scholar and aspiring young professional."