Woman of the Year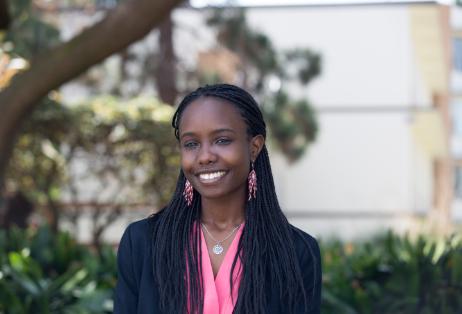 Recent LMU Screenwriting grad Ra'eesah Zaakiyah Reese is trading the glittering lights of Hollywood for the storied streets of Cambridge, Mass. to pursue a Master's degree in Theology at the prestigious Harvard Divinity School.
Ra'eesah's graduate path comes as little surprise as she minored in theological studies, but says it was the activities she became involved with at LMU that ultimately made her want to explore the subject further.
"During my time at LMU I had a number of different experiences through Alternative Break trips to places like Israel, Palestine and Jordan that really inspired me to want to continue my theology education," Ra'eesah said, "and hopefully one day make a difference."
While in Jordan, Ra'eesah was struck by how religion, politics and culture were contributing to what she felt was a grim state of women's affairs in the country.
Deeply affected by her travels, Ra'eesah, a native of Calabasas, Calif., helped form Students for Justice in Palestine upon her return to LMU. As co-president she worked with fellow students to coordinate a lecture series and film screenings about the Israeli occupation and human rights abuses of Palestinians and other minorities in Israel and the West Bank.
Additionally, Ra'eesah helped organize LMU's first ever Palestine Awareness Week, bringing in speakers from the International Solidarity Movement for Palestine and Jewish Voice for Peace.
"It was wonderful to work with other students to represent an underrepresented narrative of Palestinian experience," Ra'eesah said.
Most recently, Ra'eesah was awarded LMU's esteemed Marian Award, given to a female student who upholds the values of faith and social justice while pursuing a Jesuit education.
"I feel very honored and humbled to have received the Marian Award this year," Ra'eesah said. "Through my time at LMU, I have gotten the chance to engage in leadership opportunities that have allowed me to work with marginalized communities and to promote principles of justice, equality, and kinship."
Ra'eesah says that while she was initially attracted to LMU's first-rate film school, its attention to social justice values also resonated with her.
"LMU's mission statement stresses human justice and that really impacted me and helped shape my career goals," Ra'eesah said.
Over the summer, Ra'eesah hopes to bring her passion for filmmaking and humanitarianism together by making a documentary about the undocumented youth rights movement.
Ra'eesah says that she plans to build relationships with community organizers and immigrant youth, hopefully capturing the essence of the movement on camera and promoting an untold narrative.
Along with theological studies, Ra'eesah says she plans to one day pursue a degree in law, hopefully allowing her to use both sides of her education to work in the non-profit sector on women's rights issues.
So what advice does Ra'eesah have for incoming freshman?
"Embrace all LMU has to offer," Ra'eesah said. "Don't close yourself off to other opportunities for it could lead to an unknown passion."